Paul Thomas Anderson is one of the most-distinctive directors of his generation. Thematically, he's hard to pin down. Sometimes he feels clearly indebted to one of his favorites Robert Altman. Other times he delves into insular character studies. Regardless, he's basically not had a misstep in his career. He's gotten Oscar nominations himself, and actors often get nominations for his films as well. Anderson's ninth film Licorice Pizza is lined up for a 2021 release, and in honor of that let's go ahead and rank his previous eight films.
8. Phantom Thread
This may be the final film Daniel Day-Lewis ever makes, and it's a shame it's not up to the caliber of his career. Phantom Thread is perfectly fine, but that's not what you get from P.T. Anderson films generally. It's just kind of blasé. There's no energy to it. It lacks the kinetic energy you want from a movie, even a costume drama. This is perhaps the only Anderson film not worth a second watch.
7. Magnolia
With his breakout film Boogie Nights, Anderson really made the whole swirling, Altman-esque ensemble piece thing work really well. Magnolia is too overstuffed, though. Tom Cruise may have drawn headlines, and he's good, but the movie can't find a center to hold onto. Also, it's a little heavy handed and needlessly bleak at times. It's kitchen-sink drama cranked to 11 and while it's good it can feel like homework at times. John C. Reilly is great, though.
6. Hard Eight
Speaking of Reilly, he's one of the costars in Anderson's first film, which he wanted to call Sydney after Philip Baker Hall's character. There are a few top-notch actors at the center of this story of gamblers on the margins, and it's impressive for a debut feature. On the other hand, it's still a debut feature. Anderson hadn't figured out all the tricks of the trade yet.
5. Punch-Drunk Love
It feels very cineaste to say that this is Adam Sandler's best movie and best performance, but it's true. Look, Happy Gilmore is all well and good, but most Sandler comedies ask little of him and seem like de facto vacations. Sandler really has to act in Punch-Drunk Love, though. It takes his comedic persona and turns it into a weapon of dramatic storytelling. The film is really good and with a little more tightness it could be even higher on this list.
4. The Master
At times, it feels like nothing is happening in The Master. Other times, Joaquin Phoenix and Philip Seymour Hoffman are giving two of the best performances of the past decade. It's a showcase for those two brilliant actors which makes up for the occasions when it feels like Anderson is testing his audience. Also, if you were expecting some sort of Scientology expose, you will be disappointed. If you love great acting, though, you won't be.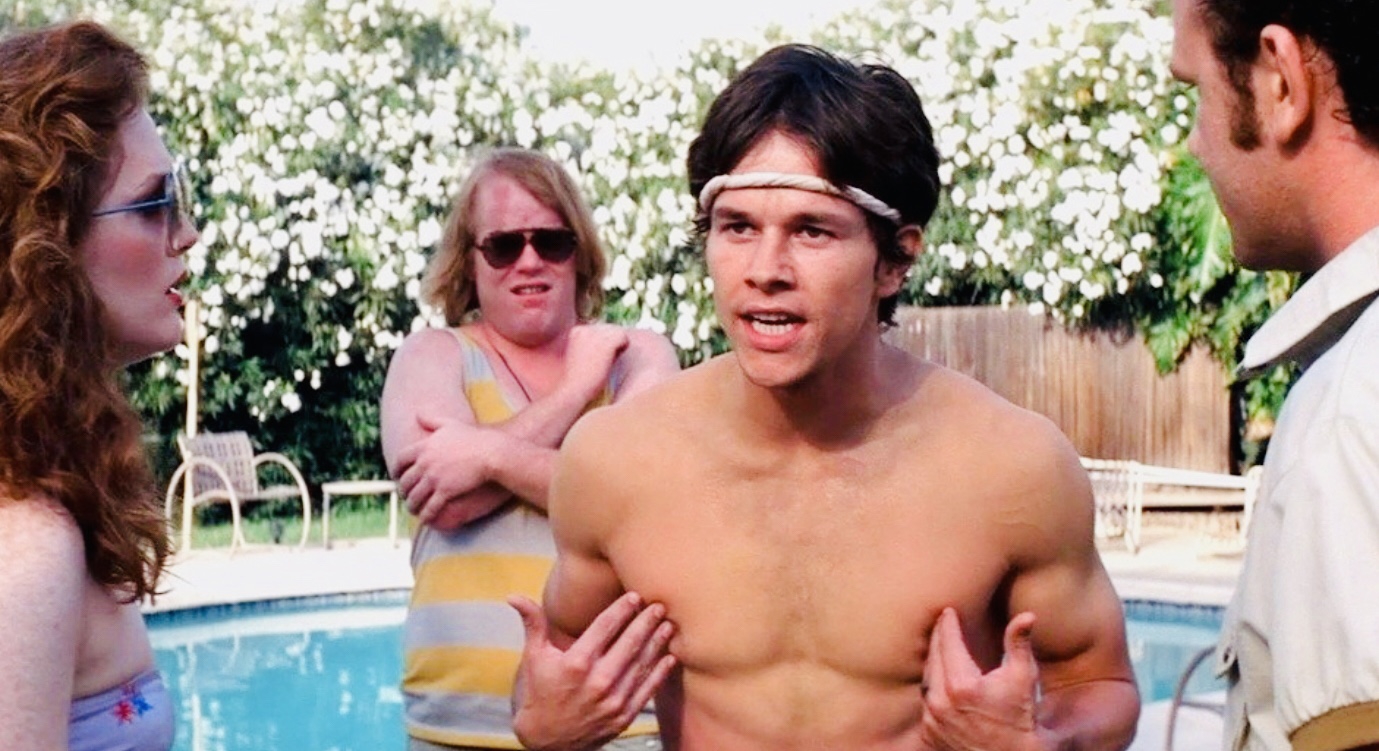 3. Boogie Nights
Try and make an ensemble comedy-drama that's an empathetic portrayal of the porn industry as the '70s turn into the '80s. It sounds impossible. Anderson did it, and he did it in his breakout film. This was the first time he had a real budget, and Anderson made the most of it. Boogie Nights is full of great performances and killer needle drops. We will never hear "Sister Christian" the same way again.
2. Inherent Vice
This film was a box-office bomb. Audiences even seemed mixed on it. Clearly, we're fans. Inherent Vice was an attempt to adapt a Thomas Pynchon novel, and if you have ever read Pynchon you know how daunting that is. And yet, Anderson knocked it out of the park. This shaggy-dog private eye story, once again starring Phoenix in an incredible turn, is gorgeous to look at and also Anderson's funniest movie. It can be a little annoying to say that you might need to watch a film a second time to really appreciate if you didn't dig it the first time, but it's worth it with Inherent Vice.
1. There Will Be Blood
We bookend out list with films starring Day-Lewis. Here, we have Anderson's true masterpiece. It is in the running for the best movie of the new millennium. No Country for Old Men is great, but There Will Be Blood should have won Best Picture for 2007. Day-Lewis won his second of three Best Actor Oscars, and he highly deserved it. His turn as Daniel Plainview is mesmerizing. You can't heap enough praise on this movie. Few filmmakers ever get a chance to make something this good.