When you are watching a TV show, oftentimes you find yourself thinking, "Wow, I'm glad I don't work there!" Workplaces in television are frequently less than ideal, for dramatic or comedic purposes. On occasion, though, there are workplaces that do seem like they would be fun to work at. Sure, you don't want to head into Dunder-Mifflin's Scranton branch and deal with Dwight and Michael five days a week, but here are five television workplaces that we wouldn't mind applying to.
1. KACL
The radio station where Frasier Crane, Bob "Bulldog" Briscoe, and others work at seems like a solid place to be. One, we'd get to work in radio. They offer an eclectic selection of talk radio shows, so whatever your interest something should work out. Also, they must offer great pay. Have you seen how nice Frasier's place is on a radio host's salary? And the dude has been divorced multiple times and has a kid!
2. Cheers
Let's go with Frasier's old hangout. We'd never want to work at, say, Paddy's Pub from It's Always Sunny in Philadelphia. Cheers, though, seems like a solid bar. Then again, only Sam seems to ever be working there on the bartending shift, and we don't necessarily want to bar back or wait on tables. Maybe Sam will let us have some weekday afternoon shifts? Or fill in for him when he has one of his many dates?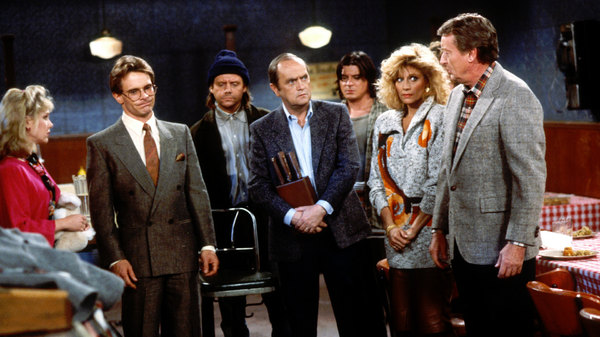 3. WPIV
A lot of people want to work in television. We thought about "TGS with Tracy Jordan" from 30 Rock, but that seems like a pretty toxic work environment. Instead, we'll head to WPIV. Sure, it's not as glamorous. The station from Newhart is a local operation in Vermont as opposed to a network TV show with an office in an iconic New York building. It seems like a better place to work, though, provided you can deal with producer Michael Harris.
4. The court from Night Court
OK, so this comes with a caveat. We'd only want to dip our toe in this world. Working in the court from Night Court for too long would be a drag. However, imagine being a lawyer who gets to try a few minor cases in front of Judge Harry T. Stone. Bull is there. You're going up against Dan Fielding, a truly insane man working as a lawyer. It would be a fascinating experience. You'd built up a lifetime's worth of stories in a month. Then, you dip out before it's too late.
5. The Los Angeles Tribune
Let's pay tribute to the late Ed Asner. He was fantastic as Lou Grant on The Mary Tyler Moore Show, but we don't need to double up on television jobs on this list. After The Mary Tyler Moore Show ended, though, Asner got his own show Lou Grant. There, he went from television back to his roots in print, taking over as an editor for the fictional "Los Angeles Tribune." Grant always seemed like a tough but fair boss, and he wanted to make the paper as good as it could be. Asner won two Emmys for Lou Grant, and his quality acting showed up in the quality of what kind of boss Grant would be. Sign us up.