Any photographer knows how to adjust exposure, how to focus on details and how to edit the pictures just right. Product photography, however, is a different league altogether. Presenting a product so that it instantly catches the attention of the onlooker and increases sales is a skill that needs to be well-crafted. Product photographs are either used for page spreads or in product catalogues.
There are many photographers who are famous because of something they do differently. You can be famous in the market if you follow these seven tips that will make your product photographs stand out.
1. Choose the Right Background
Whether your background is a plain wall or a street crowded with people, the background you choose to give your product photo matters. It provides the onlooker with an idea of where the product is placed and whether it fits their wants or needs. A background with something unusual or something complementary to the product would add to the product description.
Seeing related things nearby would also form an image in the mind of the onlooker of how the product is to be best used. Using props is also a good idea. If you are selling the props along with the product, the placement will help you sell both the product and the prop.
2. Go for something Unconventional
Experimenting is in vogue. Whether it is photo manipulation or unconventional backgrounds, you know that you have done something right if you catch the viewer's attention. To see what works the best for you, you can try different tricks and choose from them.
You can put the product in the margin of the photo or keep it out of focus. You can hang the product in an unusual way and click pictures from a unique angle. Show the product being used in a way it would not be usually used. Or you can choose to portray the product in isolation, focussing on the details.
Half of your work is done if the onlooker's eyes are drawn to the product because of your unconventional approach.
3. Adjust the Lighting
Lighting will decide how flattering your product will look in your photos. You can choose to click photos either in natural light or studio light. Depending upon your budget, you can go with either of these. Natural light is easier to manipulate and is best if you are working with a small budget.
For studio light, you will require two softbox light setups at least. Depending upon the kind of effect you are going for, one of these would be your key light, and the other will be your fill light. If you want softer light, you can block the natural and artificial light by using white paper or a piece of cloth. Studio lights demand more time to set up, but once you have the correct setup, the entire process becomes easy.
4. Add Macro Shots
Macro shots are best for product catalogues as they would be included among other photos of the product. Macro shots allow you to focus on the details without having to worry much about the background.
You can take a macro shot by placing the product on a plain background. It would turn out great because attention only needs to be paid to the part of the product you would be focussing on. If you have good lighting, you will achieve the best results because even the tiniest details would come to the forefront.
5. Try Freeze Frame
Much like its name, a freeze-frame photograph would be frozen in time. Freeze frame photography will attract onlookers simply because it shows something we cannot see with our own eyes. It looks wonderful and delivers the product in a light the customer would like to see it in. It will attract potential customers and look highly professional.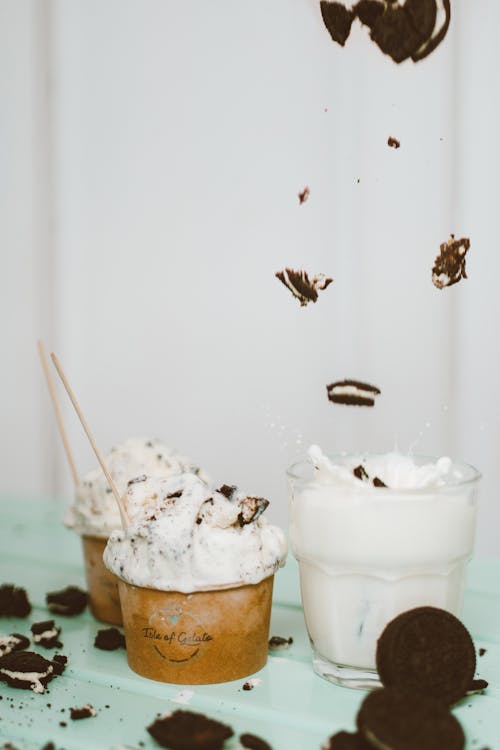 Source: https://images.pexels.com/photos/5060283/pexels-photo-5060283.jpeg?auto=compress&cs=tinysrgb&dpr=1&w=500
You would need a lot of practice for this one, and many of your initial shots might come out to be blurry. But once you are confident with this technique, your product shoot would be the talk of the town.
6. Show Product in Use
As a product photographer, your job is not restricted to capturing photos. You also need to capture the attention of the viewers. One of the ways to do it is to simply show the product in use. The way in which it will capture the onlooker's attention depends on your vision.
You can choose to mix it up and show the product being used differently than it is supposed to be. You can alter the appearance by photo manipulation, and you can experiment with colours so that the eyes are immediately drawn to the product.
7. A Reflective Surface for a Classy Look
A simple photo of the product will go to another dimension if you place the product on a reflective surface. You can choose a mirror or just a shiny surface depending upon the level of detail you are going for.
Adjust your lighting so that you capture the product in all its glory and the reflection looks exactly how you pictured it. You can also use photo manipulation to achieve the desired effect.
Conclusion
If you follow these tips for product shoots, not only will you achieve fantastic results, your work would be well sought after in no time. Just remember to pick the right equipment and to take good care of it. Use plc enclosures for your electrical equipment. Ensure that you have a good setup before you begin taking photos.
Remember to adjust the lighting according to you and make the product look like it is the only thing worth paying attention to. Whether you show the product in use or in isolation, hanging or set down, with a plain background or with a background filled with props, it will work if you are confident in your approach. Your technique is unique, and you need to harness the power of your imagination to give your photographs an edge.