Paddleboarding is one of the most popular water sports that outdoor enthusiasts can't stop talking about. It combines thrill and fitness to maximize your experience and improve your endurance and also allows you to explore some of the most stunning sceneries nature has to offer. Besides that, there are many reasons to plan and pack for a paddleboarding adventure to experience the goodness of this sport.
With the increasing popularity of paddleboarding, many destinations throughout North America offer the best spots to enjoy this sport without limitations. Based on our own experience and positive reviews from other paddleboarders, we've produced a list of 5 locations in North American that'll offer a memorable paddleboarding experience.
Below are the 5 best paddleboarding destinations in North America that'll truly provide you with the ultimate paddleboarding adventure:
Florida Keys, Florida
Image source: Pixabay
The Florida Keys are the place to be when it comes to coastline paddleboarding. These North American coastal paddleboarding destinations are a coral archipelago located off the southern shore of Florida between the Gulf of Mexico and the Atlantic Ocean. They consist of over 130 square miles of tropical sand and are known as the best destinations for fishing, snorkeling, scuba diving, paddle boarding, and boating.
If you're an out-of-state visitor, you'll find it easier flying to Miami. From that point, you can either hop on a bus or rent a car and visit any of the popular Florida Keys. In addition, many of the Florida Keys offer affordable paddleboarding gear rentals and paddleboarding training.
By paddling just close to the shore, you'll be able to cruise along and tour the stretch of the Keys. By heading out into the ocean, you'll find plenty of amazing spots for fun SUP surfing. So if coastal paddleboarding is on your bucket list and you want to enjoy the sun and cool off with a quick dive in the Atlantic ocean, then you should visit the Florida Keys on your next North America adventure.
Lake Tahoe, Nevada/California
Image source: Unsplash
You probably know or heard about Lake Tahoe already, but we can't afford to miss this freshwater lake on our list. Located between Nevada and California, Lake Tahoe has crystal clear mesmerizing blue waters surrounded by breathtaking mountainous backdrops and coniferous trees. Lake Tahoe is the most photographed paddleboarding location globally and the largest and deepest alpine lake in North America.
The snow-capped mountains of Sierra Nevada in the background make this lake a great destination for various outdoor activities. The crystal clear waters offer superb visibility of up to 21 m (70 feet) down, and you'll always find something new to explore as you paddle.
With multiple paddleboarding gear vendors around Lake Tahoe and the nearby cities like Sacramento and Carson City, you can be sure of getting equipment for hire. So if you want to experience paddleboarding on one of the cleanest lakes in North America, and don't mind the cold, anyways, Lake Tahoe should be your destination.
Oahu Hawaii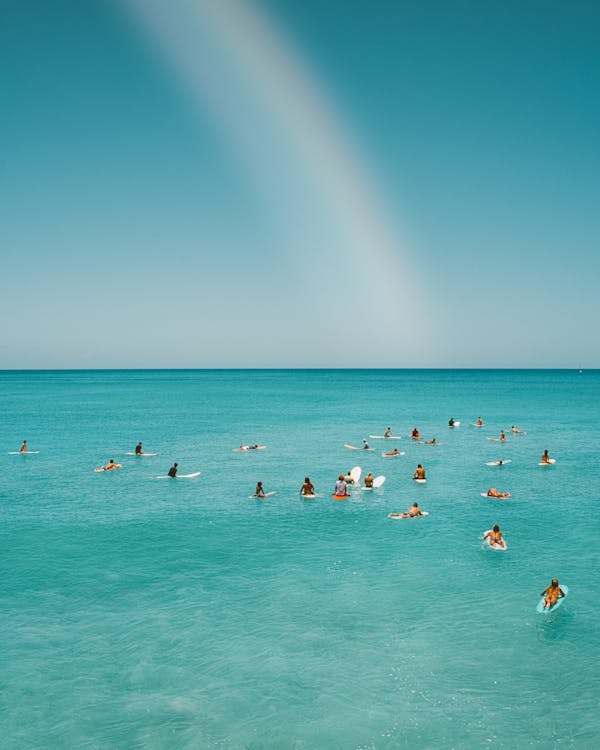 Image source: Pexels
Hawaii is a dream destination famous for boasting some of the most incredible surf spots in the world. This place is said to be the origin of paddleboarding, and you can expect an unforgettable paddleboarding experience. Sunset Beach, located on the Oahu's north shore, is popular for its huge wave surfing during winter. However, during summer, the waves are always smaller and more friendly, making them perfect for paddleboarding.
If you're an experienced paddleboarder seeking a challenging option, you can oar from Sunset Beach to Waimea Bay, like a 6.5 km (4-mile) paddling. A warm and sunny Oahu offers plenty of other paddleboarding spots such as Haleiwa, Puaena Point, and Lanikai Beach. Additionally, some spots are favorites for paddling beginners, with numerous vendors around ensuring there's always a paddleboard for rent or sale.
Mexico
Mexico is one of the most incredible paddleboarding destinations on the planet, with over 14500 km (9000 miles) of coastline, sandy beaches, and azure waters. You can be sure of enjoying quality paddling on both the Gulf of Mexico and the Pacific coast. Additionally, Mexico has plenty of paddleboarding spots that offer great opportunities for all skill levels.
Los Muertos Beach is the most famous and active spot when it comes to paddleboarding and other water sports. Here you can expect to see dolphins, humpback whales, and sea turtles while paddling. Sayulita, Punta Mita, and Cancun are also excellent locations to try on your next paddleboarding adventure in Mexico.
British Colombia, Canada
It may not be a famous paddleboarding destination, but British Colombia, Canada, is a hidden treasure with innumerable surprises in store. It's, however, a popular spot for kayakers, canoe trippers, and other outdoor enthusiasts. So why should paddleboarding fall behind?
There plenty of amazing spots to paddle in B.C, so it'd be tough to list them all. However, destinations like Emerald Lake, Muncho Lake, Tofino coast, Kalamalka Lake, Whistler, and west of Vancouver are simply a haven for paddleboarders.
Bottom Line
There are many paddleboarding destinations throughout North America, but the five above are the best and worth hitting. Don't stick to one paddling spot; travel. Explore the world and enjoy the fastest-growing water sport!
Source: