GRAMMY® Award-nominated, multi-platinum superstar Gucci Mane is celebrating Father's Day early with today's release of his latest studio album, ICE DADDY. Executive produced by Gucci Mane's 6-month-old son, Ice Davis, the stacked album includes features from Lil Baby, Lil Uzi Vert, Pooh Shiesty, E-40, 2 Chainz, and more. Highlights include the previously-released "Shit Crazy (feat. Big 30)", and "Like 34 & 8 (feat. Pooh Shiesty)." ICE DADDY is available now via all DSPs and streaming services HERE.
Global 1017 Records' own Pooh Shiesty is set to join Gucci Mane for a special performance of "Like 34 & 8" on The Tonight Show Starring Jimmy Fallon. The performance will air Monday, July 21st at 11:35pm ET on NBC- check your local listings for more details.
Along with new releases from Gucci Mane himself, the seasoned A&R is taking his eye for the next big thing to his own record label, The New 1017, in partnership with Atlantic Records. The New 1017 launched with the signing of fellow Atlanta rapper Foogiano, who was soon followed by further hand-chosen additions of artists Pooh Shiesty, Enchanting, Big Scarr, and BigWalkDog. Compilation mixtape GUCCI MANE PRESENTS: SO ICY SUMMER introduced the fresh crew with collaborations, solo tracks, and features from some of The New 1017's signees.  After just a few months, The New 1017 crew has already seen major success with Pooh Shiesty and Foogiano featured on Rolling Stone's Breakthrough 25 chart as the 3rd and 5th fastest rising artists of the month of July 2020, respectively, and Big Scarr as #1 in the month of April 2021.
Tracklisting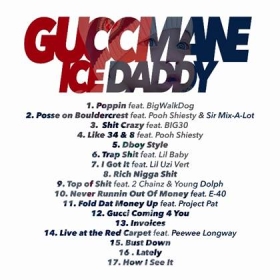 1. "Poppin" feat. BigWalkDog
2. "Posse on Bouldercrest" feat. Pooh Shiesty & Sir Mix-A-Lot
3. "Shit Crazy" feat. BIG30
4. "Like 34 & 8" feat. Pooh Shiesty
5. "Dboy Style"
6. "Trap Shit" feat. Lil Baby
7. "I Got It" feat. Lil Uzi Vert
8. "Rich Nigga Shit"
9. "Top of Shit" feat. 2 Chainz & Young Dolph
10. "Never Runnin Out Of Money" feat. E-40
11. "Fold Dat Money Up" feat. Project Pat
12. "Gucci Coming 4 You"
13. "Invoices"
14. "Live at the Red Carpet" feat. Peewee Longway
15. "Bust Down"
16. "Lately"
17. "How I See It"