Photo by Hydragun
In this article, we'll walk through the best post-workout uses of a muscle massage gun. And yes, there are right and wrong ways to use it. But in the hands of someone who understands their own body, it can be a stand-in massage therapist.
Easy workout recovery with its percussion massage
While time can be a luxury, a muscle massage gun doesn't need to be. It offers a range of attachments and applications that make it a powerful all-rounder in your recovery.
1.   Stop DOMS in its tracks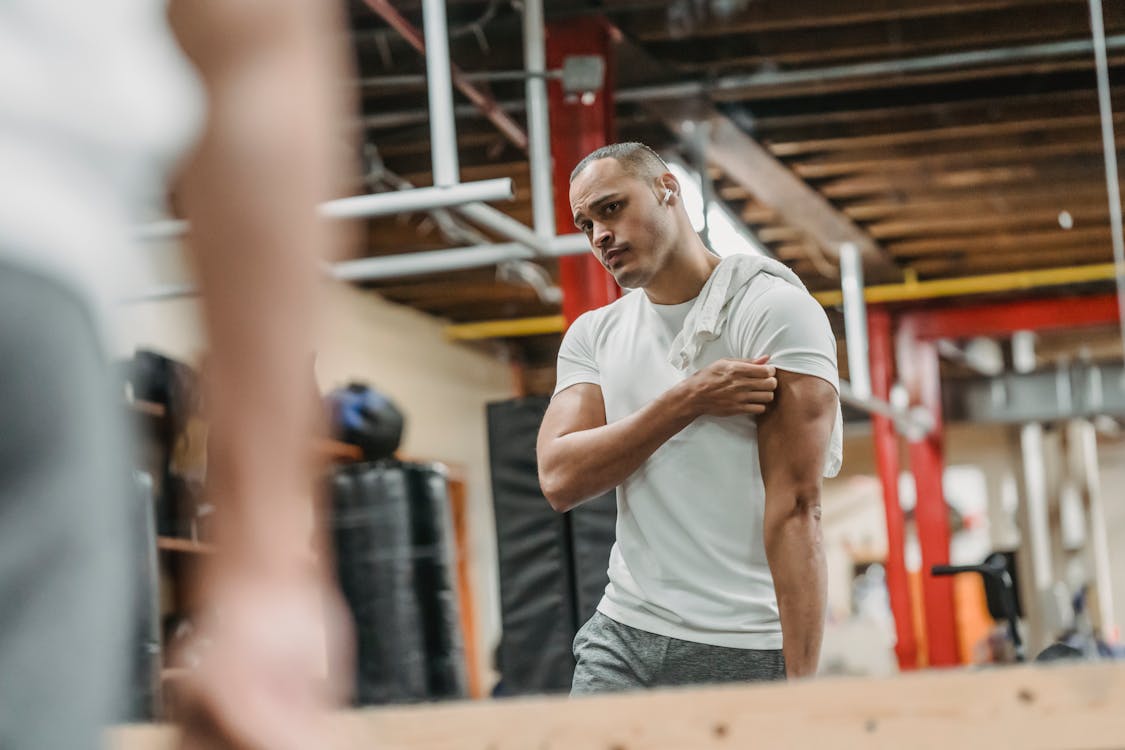 Photo by Julia Larson from Pexels
Delayed Onset of Muscle Soreness (DOMS) result from micro-tears in your muscles during intense physical activity. And it can last 3 days after a rigorous workout, stalling your gains.
The sooner you get rid of the pain, the sooner you hit the gym again. Studies show that a massage gun's percussive therapy reduces DOMS as effectively as a traditional massage. That's due to how it replicates the deep tissue stimulation by human hands.
As soon as it starts hammering away, it immediately boosts your blood flow. This facilitates the delivery of nutrients to damaged muscles, commencing your healing. The process also provides instant pain relief by distributing some much-needed soothing heat.
For best results, use it immediately after your workout. Use a ball or flat head attachment. Wider attachments break up soreness and fluid build-up on larger muscle groups. For such applications, applying extra pressure and intensity is not always necessary.
Float the device for 30 seconds around each target muscle group on lower speed settings. Fine tune the speed and pressure depending on your pain tolerance. You can do this up to thrice a day for no longer than 15 minutes per session.
2.   Undo muscle knots or tightness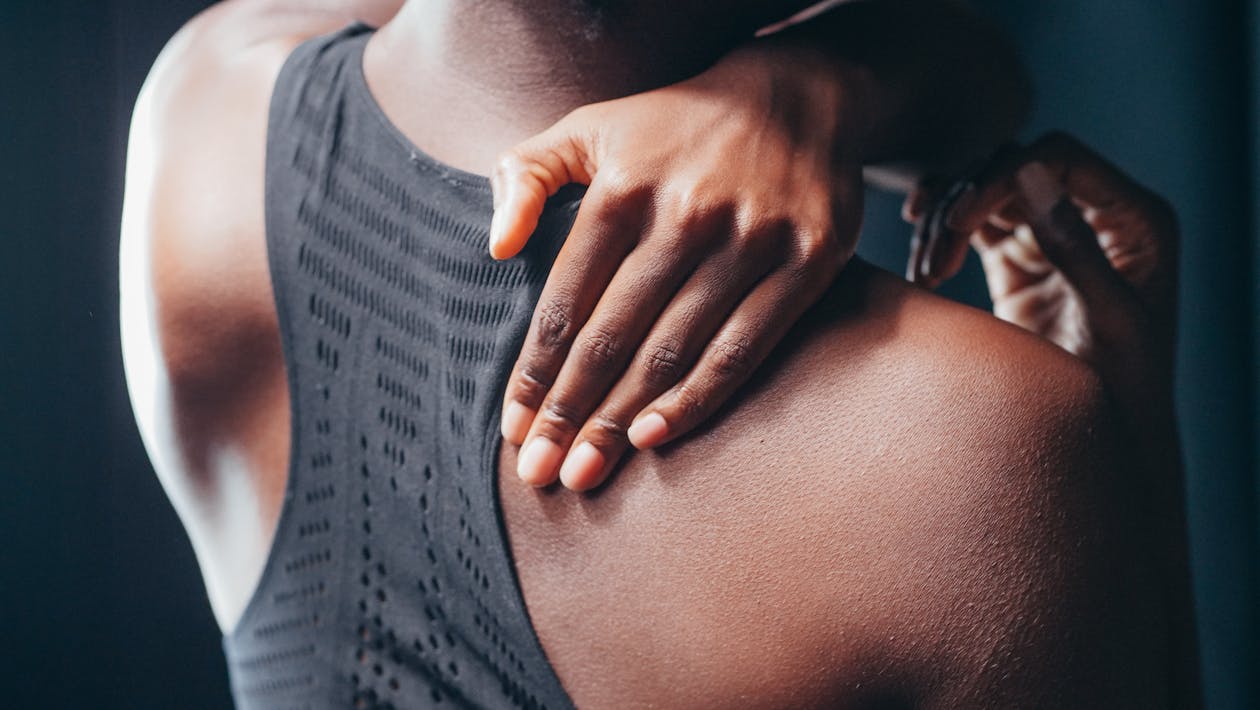 Photo by Kindel Media from Pexels
They're characterized by painful muscle tension that persists even during rest. If you feel a painful tightness in your calf, shins, lower back, shoulders, or neck; that's likely a muscle knot.
These pesky knots occur after your muscles unnaturally stretch or contract for prolonged periods. This makes both overtraining and poor static posture primary culprits of the condition. And it can get in the way of certain vital functions that we'll go through in a bit.
That said, relieving muscle knots does more than sure-fire pain relief. Once you release the muscle's tension, it can let go of any nerves it's pinching. So if you experience numbness or tingling after a workout, there could be a related tightness that needs addressing.
Additionally, treating knots can help restore your mobility. This will allow you to properly stretch and heal your fatigued muscles. On top of that, it also clears lymphatic pathways in your body. This boosts your metabolism and immune system.
Luckily, a muscle massage gun is capable of the steady and focused pressure necessary to loosen knots. Smaller attachments such as the fork head or bullet can penetrate deep into these problematic points and untangle them.
Start by "floating" the massage gun around the knots on lower speed settings. As needed, you can lean into it and increase the speed for a deeper, more intense massage. Even with a high fitness level, do this for no more than 2 minutes per muscle group.
3.   Relax and recharge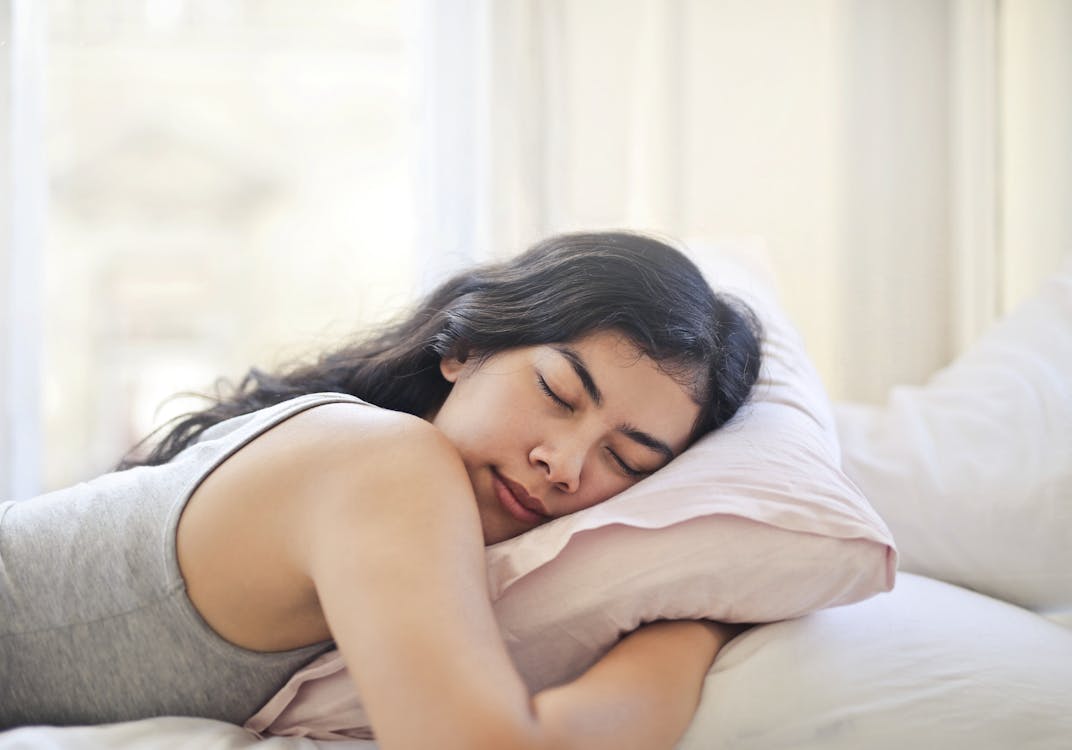 Photo by Andrea Piacquadio from Pexels
A percussive massage is a natural way to relax after a bout of intense activity. It calms your nervous system by blocking pain signals to the brain. With this, your body can focus on settling into a resting state and healing.
There's no need to worry about depth or intensity on this one. Rather, focus on what feels relaxing. A quiet and ergonomic deep tissue massager would work best for a situation like this.
The softer ball and flat attachments would do most of the job. But you can also use a fork head to get around the spine.
Float the device across each target muscle group on the lowest setting for 30 seconds. Allow it to break up any remaining soreness or tension in your muscles.
What to avoid while using a muscle massage gun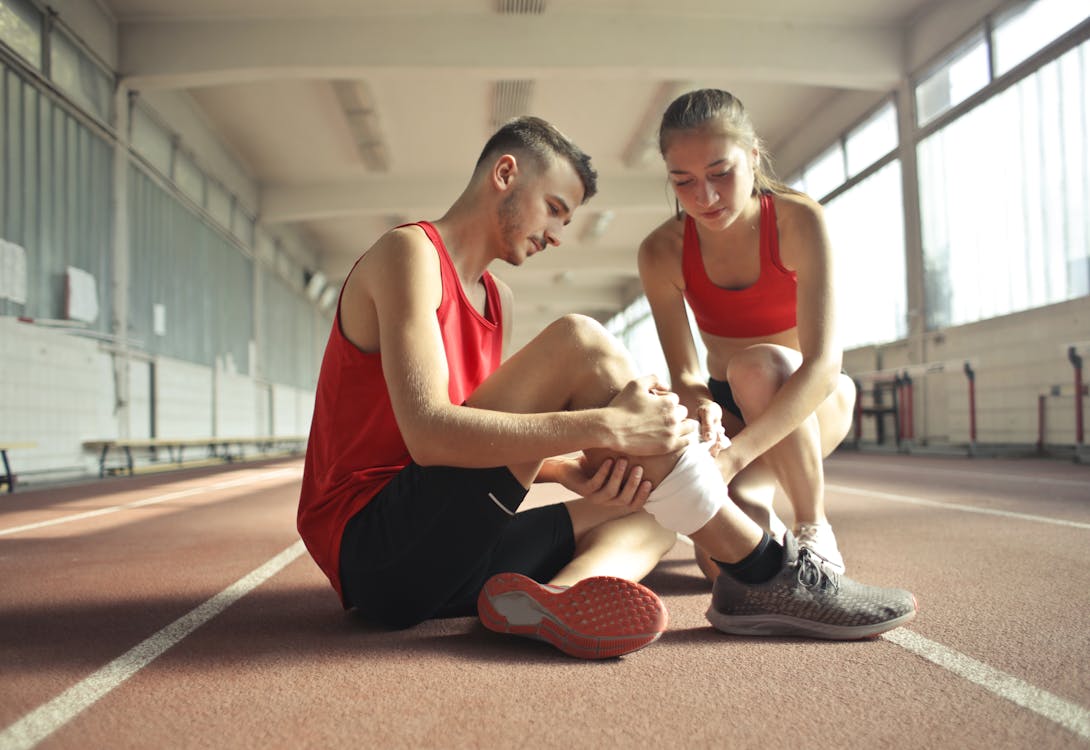 Photo by Andrea Piacquadio from Pexels
This device is not subtle by design, and its use comes with precautions. Knowing where and when not to use it could save you further trouble.
Bone and muscle injuries
Deep tissue massagers are not suitable for bones and ligaments at any state. A massage gun's thumping can aggravate – or even cause – fractures and tears.
The same applies to muscle injuries. While massage guns are designed for muscles, any additional stimulation won't help a major tear. For injuries, the solution is always to protect them while they heal.
Anywhere else with abnormal discomfort
The goal of massage guns is to make you feel better. If anything hurts too much, you should consider dialing it down or stopping completely.
There's a fine line between the "no pain, no gain" mindset and inviting injury. And if you're not careful, you could be hitting nerve bundles, swollen glands, vital organs, and other injuries. Don't ignore the signs, or you could risk inflicting damage on yourself.
The Bottomline
A muscle massage gun, in its simplicity, allows enough variation for a range of physical and mental benefits. It can be your go-to recovery tool, but it will have its limitations.
This device is only as good as how we use it. And if you're unsure of how to address your own pains, consult your doctor or physiotherapist. They can also diagnose early if there's anything too serious for a massage to fix.