Whether it's your first year at college or you're returning for a new year, it is always important to keep up with trends and stay fashionable during your college experience.
What you wear or how you dress can say a lot about you. Your outfits can reflect your personality and leave others with a first impression, based on what you typically wear. Anyone on campus, from your peers to your professors, will be able to get an idea of who you are based on the outfits you choose to wear each day.
When it comes to college, you want to dress for yourself. Wear clothes that you are comfortable in, that are versatile, and most importantly, that you feel confident in. Confidence is key when it comes to college. Make sure you feel good in what you have on, dressing properly for any occasion on campus. Let your confidence radiate as you better understand your style and who you are becoming as you shift into an adult.
Even though everyone is different and styles vary, it is important to keep up with trends and keep the college essentials in your closet as you prepare for the next semester. With these college fashion tips, trends, and essentials, you will be able to dress for success and dress with confidence, no matter what your style is.
What Trending in 2021?
With every new school year comes new trends, guiding the direction of fashion and style. These trends decide what's "in" and what's "out" – depending on what's popular in the media. With this, you can have a better idea of what you should be wearing to keep up with current trends during the upcoming school year.
These trends will help you dress with confidence, mixing your style with what's popular to add your own twist to every outfit you create.
Retro Sneakers
Free Clothing Image on Unsplash
With versatility and a fresh look, it is no wonder why retro sneakers are trending in 2021.
To stay comfortable while you walk around campus, invest in a nice pair of kicks for this school year. These shoes will be perfect for any occasion, giving you the option to dress them up or down. They will pair well with any outfit, bringing a casual yet put-together look to your entire wardrobe.
Popular Retro Sneakers Trending in 2021:
Yeezy Boost 350 V2 'Mono Ice'
Men's Adidas x Stan Smith
Vintage Tees and Hoodies
With a rise in popularity, vintage styles and nostalgic brands are trending in 2021.
For a comfy, cozy, but classy look, expand your closet with some new vintage-style t-shirts or hoodies. Shop your local thrift store in search of old-school tees or look for reinvented vintage styles online. You are bound to find some unique pieces that bring a new essence to your current wardrobe.
Look for brands like Guess or Tommy Hilfiger from the '90s or early 2000s to bring this nostalgic style back to life.
Matching Sets
For a comfortable yet put-together look, invest in a few matching sets. They are simple, easy to wear, and perfect for those long days of classes. With their versatility and the ability to dress them up or down, a matching set is perfect for any occasion. For all seasons, there is a matching set that can keep you feeling comfortable and confident.
Types of Matching Sets:
Causal sweat set: perfect for sitting through classes or a walk around campus during cooler months
Athleisure set with leggings and a fitted top: perfect for sports practice or a workout at the gym
Skirt and top set: perfect to dress up your look without putting in much effort
Trouser shorts with blazer set: perfect for a business-casual look when you need to be more dressed up or professional
Clothing Essentials for College Students
As trends come and go, there are always certain pieces that will never go out of style.
These pieces will be essential to any college student's closet, giving you pieces to work with and incorporate into different outfits. They are simple yet versatile with the functionality to add to any student's unique style. By keeping these essentials in your wardrobe, you will have every staple piece you may need throughout your time at college.
Jeans
selective focus photography of hanged denim jeans photo – Free Pants Image on Unsplash
Investing in a good, reliable, and comfortable pair of jeans is important for anyone heading to college this year. Jeans are versatile, giving you the option to dress them up or down. They go with almost anything, adding a classic style to any outfit you put together.
They are a timeless piece, making them the perfect staple piece to keep in your closet year-round.
Popular Brands of Jeans in 2021:
Levi's
American Eagle Outfitters
Lucky Brand
Basic Tees
To make the most of what's in your closet, add some basic tees in an assortment of colors, giving you a simple piece you can pair with any look. These basic tees will go perfectly with jeans or leggings, giving you versatility to be comfortable.
Basic tees can easily be dressed up or down, giving you a blank slate to keep plain or pair with dressier accessories depending on where you're headed. For the perfect closet addition, invest in quality basic tees in a variety of colors, giving you options for your next outfit.
Sweatshirts
gray and white adidas backpack photo – Free Apparel Image on Unsplash
For the cooler seasons, it is always good to have a couple of sweatshirts in your college wardrobe. Whether you like crew necks or hoodies, these are the perfect staple for a casual day on campus during the Fall or Winter.
Rock a sweatshirt with your college logo or a name brand, pairing these options with a pair of jeans, sweats, or leggings. To stay comfy and warm while looking casual and put together, invest in a couple of sweatshirts to add to your college essentials.
Sneakers
Let's be real, you can never go wrong with a good pair of sneakers. A simple, reliable, and comfortable pair is perfect for college, to pair with any of the outfits in your wardrobe.
Whether you like to dress sporty in athleisure, casual in jeans and a tee, or want to add an edgy look to a dressier outfit, you need a good pair of sneakers you can wear with virtually anything. These will be a staple piece in your closet, helping you complete any look with confidence and comfort in mind.
Slippers
Even though it may not be the first thing that comes to mind, slippers are an essential accessory you should always utilize at college. For comfort, especially during colder months, you will want to invest in a pair of quality slippers to bring to school.
Pro Tip: If you live in a college dorm, walking from dorm to dorm, or using communal-style bathrooms, a pair of slippers will be perfect to keep by your bed to slip on. They will come in handy even more than you'd think.
Popular Slipper Brands of 2021:
Fashion Tips for College Students
While everyone in college has their own unique individual style, these fashion tips can help you stay within budget while staying confident and comfortable in any outfit that you rock this school year.
Tip #1 – Look for Quality
When shopping for your college wardrobe, it is important to shop for durable and high-quality brands, ensuring the pieces you buy will hold up over time. This will give you the most bang for your buck, investing in items that will last you, even after you've worn and washed something multiple times.
Tip #2 – Stay on Budget
While you want to make sure you are buying quality clothes, you want to make sure you stay within your budget as well. Invest in a staple piece you will get wear out of, not just something you'll wear once. Find quality brands, that don't run too high, to invest in clothes that will be worth what you spent, lasting you a long time.
Tip #3 – Check Out Thrift Stores
To find unique, original, or vintage pieces, check out your local thrift store. Oftentimes thrift stores are filled with one-of-a-kind options that will be hard to find anywhere else or with such a low price. These items are typically discounted, saving you money when you find a name-brand, nostalgic, or trending item.
Shopping thrift stores can be a fun pastime, searching through racks for unique additions to include in your college wardrobe.
Tip #4 – Shoes Will Make or Break an Outfit
Even if you have the perfect outfit planned, the shoes you pair with it can completely make or break the completed outfit. Make sure you have versatile options, to pair with any outfit you might put together with what's in your closet.
Make sure you choose the right pair of shoes to complete any outfit successfully.
Tip #5 – Dress for the Occasion
While at college, there are a variety of events you might attend. Whether you're just heading to class, giving a campus tour, heading to an alumni event, or going to a homecoming game, make sure you dress properly. What you wear will express a lot about you so you want to dress to impress, no matter the occasion.
Tip #6 – Embrace Your Style
The beauty of college is that everyone has a unique, individual style that they get to rock in their own way. Some people may dress more business-casual while others may live in comfortable athleisure, regardless it is important to embrace your style and feel confident in whatever you wear.
Let your style reflect who you are, showing off your personality through your outfit choices. Wear what makes you happy, what makes you feel good and confident in your skin. Stay true to yourself, wearing what you want throughout your college experience.
Staying Fashionable All Semester Long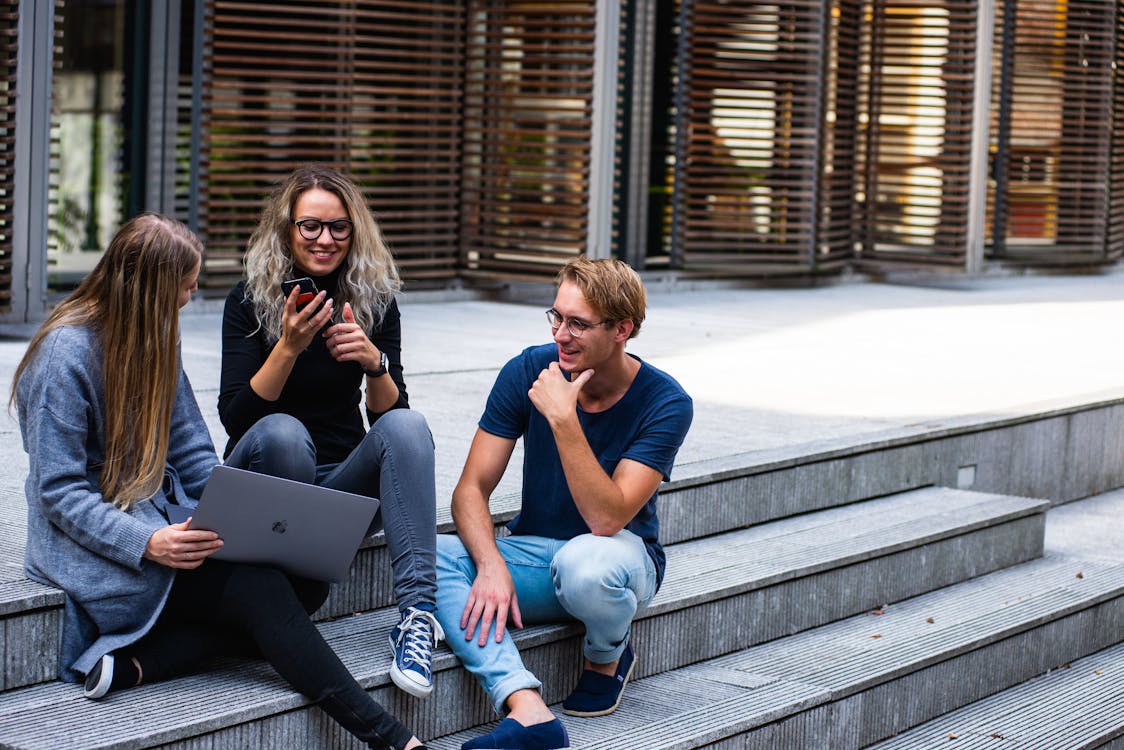 Three Persons Sitting on the Stairs Talking With Each Other · Free Stock Photo (pexels.com)
Use this guide to help you decide what to bring to college or add to your closest in 2021. Stay up to date on new fashion trends, keep essentials for versatile outfit options, and wear what makes you feel comfortable and confident.
To get the most out of the next four years, keep these fashion tips in mind, adding a twist to any outfit you create. Feel good in what you wear and find confidence in your style, this is the key to staying fashionable all semester long.