Let's head back to the swingin' '60s! We're deep into the classic film era. The year 1966 is a completely different era of film. Specifically, often 1967 is cited as a year when cinema really changed, at least in the United States. We're now prior to that point in time. We're in the era of costumed dramas, musicals, and things of that nature. I am versed in the films of the '60s, but am I well-versed? How many of the films of 1966 have I seen, and what will I feel about this movie year after I delve in further? I'm about to find out.
OK, so I have seen only one of the top 10 films in the U.S. box office. To be fair, that's true for a lot of people I imagine. If you were not around in 1966, my bet is that you've seen at most half of these films, and probably not the top two. That's because the top two films have been totally forgotten. On top is Hawaii, a period piece about a divinity student and his new wife heading to Hawaii for missionary work in 1820, which is well before Hawaii was a state, of course. I have only heard of this film in the context of "Can you believe this movie topped the box office at year's end?" It has been completely forgotten and just reading about it makes it seem like warmed over trash, or at least banal mediocrity.
Finishing in second? That would be The Bible: In the Beginning…. Ah, the bygone era of the religious epic. However, unlike The Ten Commandments or Ben Hur, this one has been forgotten. The movie covers the first 22 chapters of the Book of Genesis. It's an epic that runs almost three hours and cost a purposed $15-$18 million to make, huge for that time period.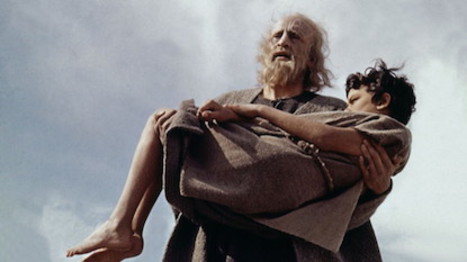 These movies may have been forgotten, but they had a lot of name-brand recognition to them. Hawaii was directed by George Roy Hill and The Bible is a John Huston film. John Huston! Hawaii stars Max von Sydow and Julie Andrews, while a young Gene Hackman has a smaller role. In The Bible, George C. Scott plays Abraham and Ava Gardner plays Sarah. Huston himself plays Noah and the voice of God.
Hey, at least in third on the box office is Who's Afraid of Virginia Woolf?, a movie largely considered a classic and the beginning of the acclaimed directorial career of Mike Nichols. That movie won two Oscars for actresses Elizabeth Taylor and Sandy Dennis. The other big film at the Oscars for 1966 was A Man for All Seasons, another period piece costume drama, but one that won Best Picture.
Want to know how much things have changed for the film industry? Four of the top six films in terms of box office were nominated for Best Picture and the other, Alfie, finished ninth. That sort of thing will never happen again.
That being said, the pinnacle of cinematic achievement in 1966 is the Batman movie. Yes, the one starring Adam West. It's the best Batman movie. It rules. The TV show it is based on rules. This was well before superhero movies got so serious. Hell, superhero movies were barely a thing. That's another way that things have changed. Back then, there were some days you just couldn't get rid of a bomb.