Are you wondering what bike size to get your ten-year-old? I'm here to help you find the answer.
Well, the perfect bicycle for a 10-year-old should come with 24-inch wheels. It's essential, however, that you verify other specifications like the child's height, inseam height, and seat height. So, it's not just about age.
Generally, a bike is an excellent gift for any 10-year-old. So, whether you want to celebrate your son's birthday or to award him for performing tremendously in school, you cannot go wrong with a bicycle.
The secret, however, is getting the size right. It would help if you didn't buy a smaller bike as it would be impossible for the boy to ride. It would help if you also didn't purchase an excessively-big bicycle as that would be challenging to ride.
In a Hurry? Here's What To Do
If you want to make a quick purchase, consider the bike's size under product specifications. That's if you are buying the bike online.
Generally, look for things like the rider's age or the rider's height.
You can also check this review for the best bicycle for 10 year old boy. You should be able to find an excellent pick for your boy.
What if You Are Buying Offline?
Then it could be a good idea to take your boy to the shop and then have him try a few best kids' bikes. Once you find a size that suits him, you can determine if it meets these other buying considerations:
Lightweight
Comfortable
Easy to access
Powerful brakes
Safety features
Accessory-packed
I Want the Details – What Should I Do?
Perhaps you are not okay with just going online and picking a specific bike size. Then dig deeper to understand the critical considerations for getting the size right.
Let's face it, how many times have you bought shoes online that are presumably your size only for them not to fit? That goes for your boy's bike.
Therefore, you should be sure that the bike will accommodate him. After all, 10-year olds differ in body sizes. Some weigh more than others or are taller than others.
So, such details cannot be overlooked. As a result, you'll find this quick guide useful:
Wheel Size
Here, you have to look at the diameter of the wheel. Bikes for kids have wheels that are between 12 inches and 24 inches depending on age and many other factors.
But since we are talking about a 10-year-old, we'll focus on the relationship between the wheel size and age. The average wheel size for 10-year-olds is 24 inches.
So, consider such options if you want to make an excellent purchase. You can also move to the second consideration if you are still unsure.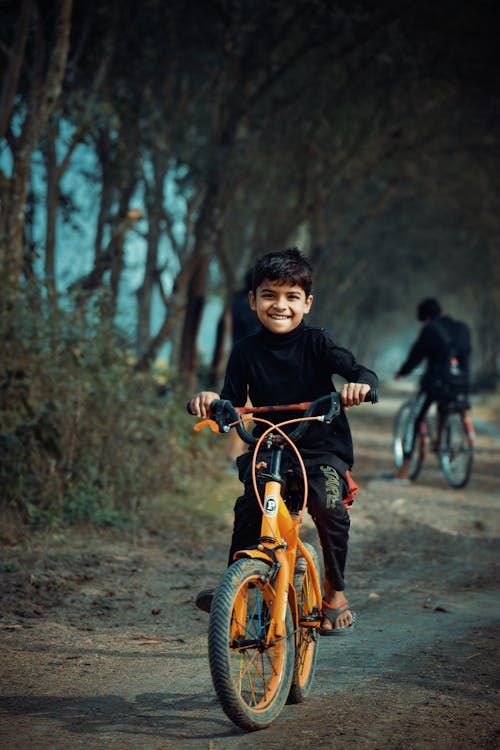 Inseam Length
The inseam (inside leg) height of your boy can help you determine his right bicycle size. It's more precise than just relating the wheel size to their age.
So, what length should it be, and how can you measure it?
On average, 10-year-olds have an inseam length of 60-72 cm (24-28 inches).
I have put a range because of height differences. As expected, taller 10-year-olds have longer inseams.
But what's the relationship between the inseam lengths and the bike size?
Well, if the inseam length is within the mentioned range (60-72 cm), then you should get a bike with 24-inch wheels.
However, if the inseam length is less than 60 cm, perhaps 50-59 cm, then you should buy a bike with 20-inch wheels. And if it exceeds 72 cm, which is quite unlikely, then you should get a bike with 26-inch wheels.
You can measure your boy's inseam length using these steps:
Ask your boy to stand with his back on the wall
Advise him to spread his legs 3-4 inches apart and then place a book in between
Slide the book to the point where his spine meets the crouch
Measure the distance between the book and the ground to get the inseam length
Rider's Height
It's expected that 10-year olds are taller. Some are even taller than others. On average, 10-year olds are about 4'5"-4'9" tall.
But how do you relate the height to the bike size?
Well, if your boy is about 4'5"-4'9" tall, the perfect bike should come with 24-inch wheels.
But what if your boy is shorter? Well, if he is about 4'0"-4'4" tall, then the perfect wheel size would be 20-inches. But still, that's very rare for 10-year-olds.
You can measure the boy's height as follows:
Ask him to stand straight with his back against the wall
Measure the distance between the top of his head and the ground
Record the length and determine if it's within this range – 4'5"-4'9" tall
Seat Height
Consider your boy's seating height when buying him a bike. Generally, his knees should be slightly bent to allow him to pedal with ease and faster.
The buying choice, however, depends on the bike type. Are you buying a first pedal kids bike or a second pedal kids bike?
A first pedal kids bike is the one that you buy after your kid has mastered a balanced bike or one with training wheels. So, it is for a kid who already knows how to balance on a bicycle.
If that's the case with your boy, then consider a bike with a seat height that's the same as your boy's inseam length. So, for seat heights that are 60-72 cm long, find a bike with 24 inches wheels.
What if you are buying a second pedal kids bike? Well, a second pedal bike is one that you buy after your kid has outlived a first pedal kids bike.
Most 10-year old boys require a second pedal bicycle. In this case, your boy should be able to place his toes on the ground while seated on the bike.
For a comfortable ride, the seat should be about 2-4 inches above your boy's inseam.
The Verdict
Generally, buying the right bike size for your kid can go a long way into helping him have fun cycling.
While it's apparent that most 10-year-olds can comfortably ride a bike with 24-inch wheels, it's not conclusive. Other factors like inseam length, seat height, and the child's height are also crucial.