The weather can be unforgiving on the beach sometimes. Think of the strong winds that wouldn't just stop driving sand into your eyes and drinks.
Perhaps it's the fiery sun that is a risk for skin cancer and sunburns. There's also the threat posed by rain, which is often abrupt.
All those factors are reasons to invest in a beach canopy as you secure other beach gear like a portable beach chair. The protective shade can offer you decent protection from the harsh weather.
What's more, it offers you ample privacy on the beach while helping you to mark your territory there.
But how do you buy the best beach canopy? Below are the primary considerations:
Ultraviolet Protection Factor (UPF) Rating
The UPF rating is the expression of the canopy's effectiveness against the sun's harmful ultraviolet rays. A good canopy material should have a UPF 50+ rating, which implies that it can block off 99% of ultraviolet rays.
Remember, the sun's UV rays are harmful to your skin. The rays can cause skin cancer, and given how hot it gets on the beach, there's always that risk.
Luckily, going for a UPF %)+ rated canopy provides you with enough blockage against the sun so as you can relax safely.
Quality Materials
Different manufacturers use different canopy materials. Starting with the fabric; the best materials are polyester and nylon.
The two fabrics are not just water repellent but also tear-resistant. Even during strong winds, these materials don't rip easily.
You also need to consider the frame material, which should also be high-quality and durable. The frame should be collision-resistant and compact, and this is where aluminium is a top choice.
But given that steel is weightier than aluminium, you can still go for it to resist windy conditions.
Easy Setup and Takedown
No one wants to struggle setting up a beach canopy for an hour. You want to assemble it in minutes. The setup should preferably be a one-man's job.
The good news is that most beach canopy manufacturers include setup manuals to help in the assembly.
Furthermore, disassembly should be quick and easy. You should be able to take down the frame effortlessly for easy carrying away from the beach. A user manual, therefore, can be of help here.
Accessories
It's impossible to talk about easy canopy assembly without considering its accessories. So, how do you ensure you pick a canopy with all essential accessories?
You have to read the product specifications and check out customer reviews.
Some of the best essential accessories are poles, frames, and anchor cords. Plus, some beach canopies come with sandbags that are a source of ground anchorage.
You should also look for the best beach canopy with a carrying case or wheeled bag. Not only does the feature encourage its portability, but it also comes with everything you need for the assembly.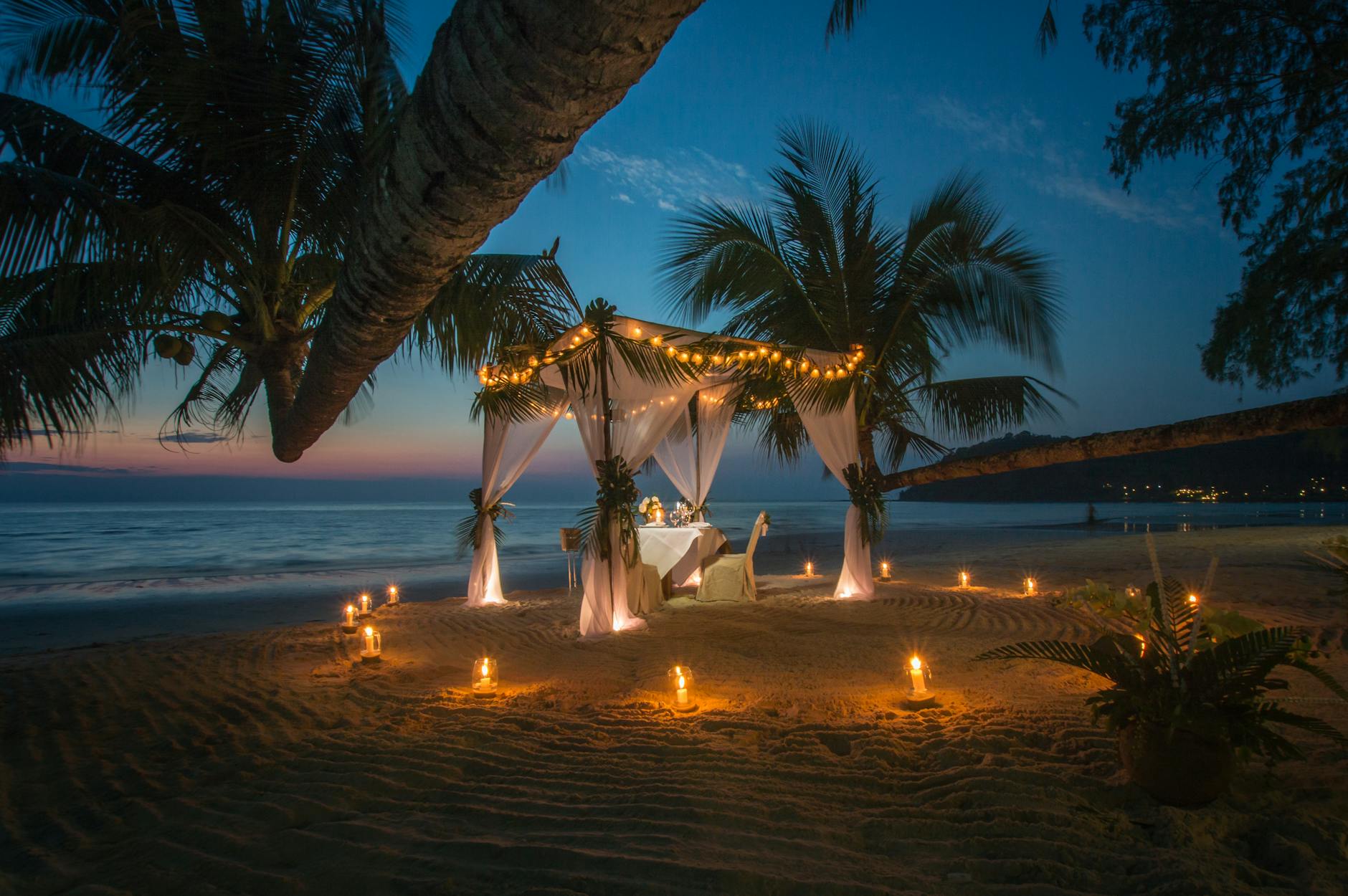 Canopy Design
Overall, beach canopies come in three main designs, sometimes known as beach canopy types.
Firstly, we have pole canopies, which feature relatively sturdy poles anchored by cords. They are usually the easiest to move around.
Secondly, we have frame canopies, which feature an inbuilt frame. They are more stable than pole canopies but not the easiest to move around.
Lastly, we have popup canopies, which are the most convenient option for most people. They are easy to set up and require one person to do it. Their downside is that they are the smallest of the three canopy designs.
Canopy Size
How many people do you want to shelter on the beach? Answering such a question can help you pick the right canopy size.
A majority of beach canopies accommodate 2-4 adults plus children, but we've others that can accommodate more.
Remember, it's not just the sitting area that matters. You need some space to put your snacks and other beach supplies as you rest. And if you take your kids to the beach, they'll need some space to play.
So, there is no harm in always going for a bigger canopy, provided that it's easy to set up and that you can afford it.
Portability
Just as you wouldn't want a difficult-to-setup beach canopy, you also wouldn't want a hard-to-move option. So, you have to consider its weight carefully.
Go for a lightweight canopy to allow you to move it with ease. Additionally, it should be readily collapsible.
It's worth noting that readily portable canopies tend to be easy to set up and to take down.
A good number of beach canopies come with carrying cases which make their transportation effortless.
The takeaway here is that you should always confirm the canopy weight under its specifications before buying.
Safety
Safety goes beyond the UPF rating when it comes to beach canopies. You require a beach canopy that shelters you from not only the sun but also the rain and strong winds.
So, look for a waterproof canopy material and one with strong wall sealing to resist strong winds. Generally, it shouldn't be easily blown away.
Last but not least, consider a canopy that doesn't catch fire easily, what we call fire retardant.
Sidewalls
Not all beach canopies come with sidewalls, and that's why you should pay the factor a little attention. Sidewalls are essential in promoting wind resistance and so going for a canopy with sidewalls is always a plus.
It allows you to relax comfortably under the shade without having to worry about the strong wind blowing sand into your eyes and drinks.
Sidewalls also keep nuisance insects away while making the canopy's interior feel warm. You should ensure that they are detachable to promote ventilation.
Canopy Price
Lastly, you cannot forget the factor that matters the most for a buyer, and that is the price. All the other considerations may be favorable, but if the price is unfavorable, then you may not go ahead with the purchase.
When considering the price, ensure you put the safety and quality of the canopy's construction first. You shouldn't sacrifice them for a low price.
Of course, it's essential to have a budget and shop for a beach canopy that's within it.
Conclusion
Why settle for less when you can buy the best beach canopy? Above are buying considerations that will help you get it. So, use them to land your perfect beach canopy, ultimately.