Internal or external communication, it doesn't matter. It has a huge impact on every aspect of our lives. Communication brings us closer allowing us to share information and increase mutual understanding. Interacting with others, we develop certain feelings and create meaningful bonds. Here is how internal communication helps us in everyday life in 2020.
Staying Informed
Let's start with one of the most obvious reasons why internal communication is so important today. We have all heard that saying — Information is power. Well, good internal communication allows us to share knowledge and stay informed. The world is constantly changing, the industry also so employees and common citizens have to be informed and keep track of the latest changes. It allows us to adapt quickly. Employees have to be familiar with the company's mission, projects, management, and corporate goals to do their jobs well. They have numerous tools to help them communicate effectively among themselves and with managers. Some companies use intranet systems, while others prefer combining various tools for internal communication instead of just one. On the other hand, people most often receive updates through social media. They also use these networks to communicate and socialize with friends and family.
Engaging in Activities
Now more than ever, we have to unite and help each other. Take a look at your neighborhood or your neighbors from the building. Surely, some people belong to at-risk group and can't risk their life by going outside to pick up some groceries or pay the bills. How would you know about them if it weren't for communication? It doesn't have to be only in person. During lockdown and the ongoing pandemic social media has seen numerous posts in different groups by people who could use some help. Buying groceries and medicine, paying bills, etc. are some of the things elderly and people with certain medical conditions need help with. Through internal communication, young people can find such members of their community and engage in activities. During such difficult times, young people's help will mean a lot to them.
Debating and Disputing
As mentioned, internal communication allows us to stay on top of things. When we communicate, we don't necessarily share only information. Instead, we discuss and share ideas, opinions, and suggestions. How many times have you seen people commenting posts on social media and discussing whether something is true or not? Too many times. It is normal to clash over different things but it also has its positive side. We can see things from different perspectives and adjust our opinions. Most often, we come up with great ideas or problem solutions. Same goes for feedback. During communication, we give and receive feedback which helps us improve our skills, or change behavior for better. For this reason, it is important not only to communicate but also to listen.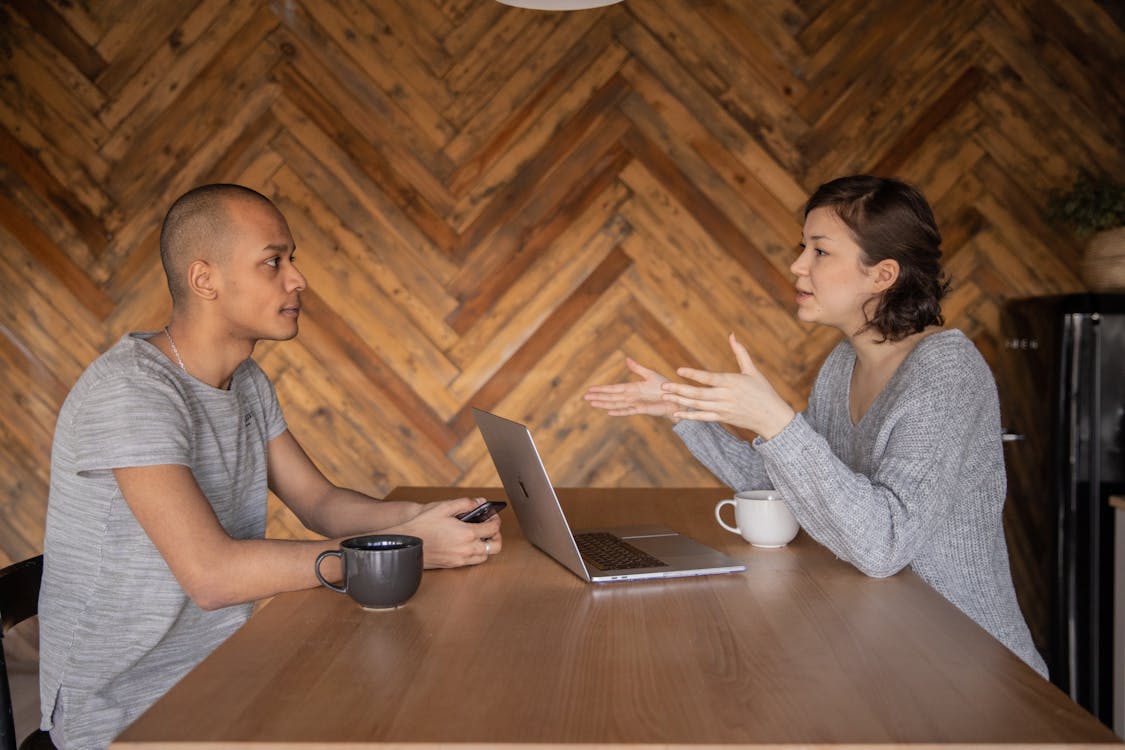 Image source: Pexels
Shaping Opinions and Gaining a More Holistic Perspective
In most companies, communication is a one way street. In real life, it takes at least two participants actively engaging in conversation to classify it as an effective communication. No matter who you are talking to, you have to listen and respond timely and accordingly. In this communicative process, we share opinions on various matters. Whether it is a current political situation in the state, work or family related stuff. We share, get to know each other, and gain a more holistic perspective of the matter in question. It helps us construct, shape, and change opinions based on the knowledge and information gained during the communication.
Remaining Calm during the Crisis
Since this year is a highly unusual one, internal communication is needed more than ever. We need to know the real state of things and how to protect ourselves and our loved ones during the ongoing crisis. Given the delicacy of the situation, it has to be handled with extra care. In times like these, transparency and information are the keys to remaining calm. People have questions and the way they get answers will stick in their mind for a long time. Leaders with strong communicative skills know how to handle similar situations. Newspapers, the Internet, social media, etc. are all platforms where we can inform ourselves and communicate with others. This helps us overcome difficulties and tough times.
Finding Opportunities
Most people look for opportunities for professional and personal growth. Digital era we are living in makes it easier to find these opportunities and take advantage of them. Since people spend so much time on social media, employers have decided to advertise available positions on these networks in addition to the regular websites dedicated to job hunters. Cultural and sporting events, training programs, workshops are frequently promoted all over the Internet. However, word of mouth is still a popular marketing strategy. People spread the word among themselves about available opportunities so those interested can seize them on time.