I remember when I saw the trailer for No Time to Die. I know that sounds like some opening salvo of nostalgia for something that happened like four months ago, but I don't mean it like that. Bear with me. I was seeing The Rise of Skywalker (a total adequate film) with my dad. Afterward, he said he was looking forward to seeing the new James Bond movie and would go see it in a theater. I said I would join him. We often go to the big blockbuster movies together (while I go see the likes of, say, Parasite with others or by myself). So I mentally marked when the movie would be released: April 10. Of course, you know what happened by now.
No Time to Die was one of the first cultural casualties of COVID-19, aka the coronavirus. It was not the last. That movie got delayed. It made sense. People are either too sick, or too worried, to go see a big blockbuster in the theaters. The ticket sales would be relatively meager. A Quiet Place II has been delayed. The making of the latest Fast and Furious movie has been delayed. The new season of Survivor isn't being shot. Are those people just chilling in Fiji? It would be safe. It's remote and COVID-19 isn't really there.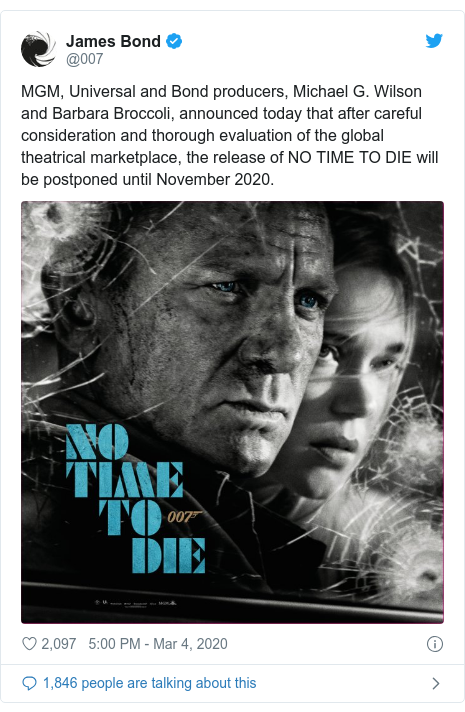 These are weird times. The world has panicked, and our culture has been deeply impacted. This is awful. In a time like this our entertainment is what calms us. Now, it's going away. I'm the exact kind of guy who is happy to just sit around and watch a lot of TV or some movies for a few days. There's a reason I write a "What to binge this weekend" article every week. However, I want to be able to do it by choice.
When the weather is nice, if I have a free afternoon I like to drive over to my local movie theater, park in a nearby subdivision, and then take a 10 minute walk over. It would feel weird to do that now. Soon, I might not even be able to do it. I go to a Simpsons bar trivia event every month. It's been cancelled.
These are my personal stories, but I am sure you have similar ones. We are all swimming in the chaos. Tom Hanks got COVID-19. Riverdale has been delayed. I mean, I don't watch that show, but others do. This is about all of us. Don't even get me started on sports. Especially because so much of what I do professionally is write about sports. My life has been fundamentally impacted by this. I should really go see a movie to take my mind off things. Oh, wait…
For an undetermined period of time, we will be spending a ton of time at home, alone, watching TV and movies. I have plenty of stuff I could recommend you. I recently picked up a season of The Mary Tyler Moore Show on DVD. Nailed It! would be a good way to ease your stress. The stress can't be eliminated, though. The tail of this is going to stick with us for a while. Things will (hopefully, presumably) get back to normal eventually. SARS didn't irreparably damage the world. Those were different times, though. The world is more fragile now. We descend into chaos so quickly. I will eventually go see No Time to Die with my dad. When, I don't know. For now, we all have to do the best we can. If you want to know a good movie or TV show to watch, feel free to ask. I've certainly got the time.