I love TV. I love movies. I watch them all the time. However, I don't really, truly watch them ALL the time, you know? I do improv. I go out to eat or to the bar. I watch a ton of sports. All of that has sort of gone from my life for now. I'm not alone. This has left me rewatching more stuff. The other day I straight-up watched a Seinfeld rerun on TBS. I've watched George convert to Latvian Orthodox so many times at this point. I did it again. That's life.
Recently, though, I've been dipping back into a show I've only watched in its entirety once. That would be HBO's The Larry Sanders Show. It ran from 1992 through 1998, six seasons and 90 episodes. I really liked it on my first watch through. Rewatching it, though, I'm liking it even more. The Larry Sanders Show may be the most-underrated comedy of the '90s.
If you aren't familiar, Garry Shandling plays Larry Sanders, a moderately successful late night talk show host. He is in our world beyond that, though. He competes with Jay Leno, David Letterman, and so on. Sanders is, not unlike Shandling, neurotic, needy, pathological, and complex. He's also hilarious as a character. And yet, as talented as Shandling is, and as good as Sanders is as a character, he is overshadowed by two truly titanic TV characters.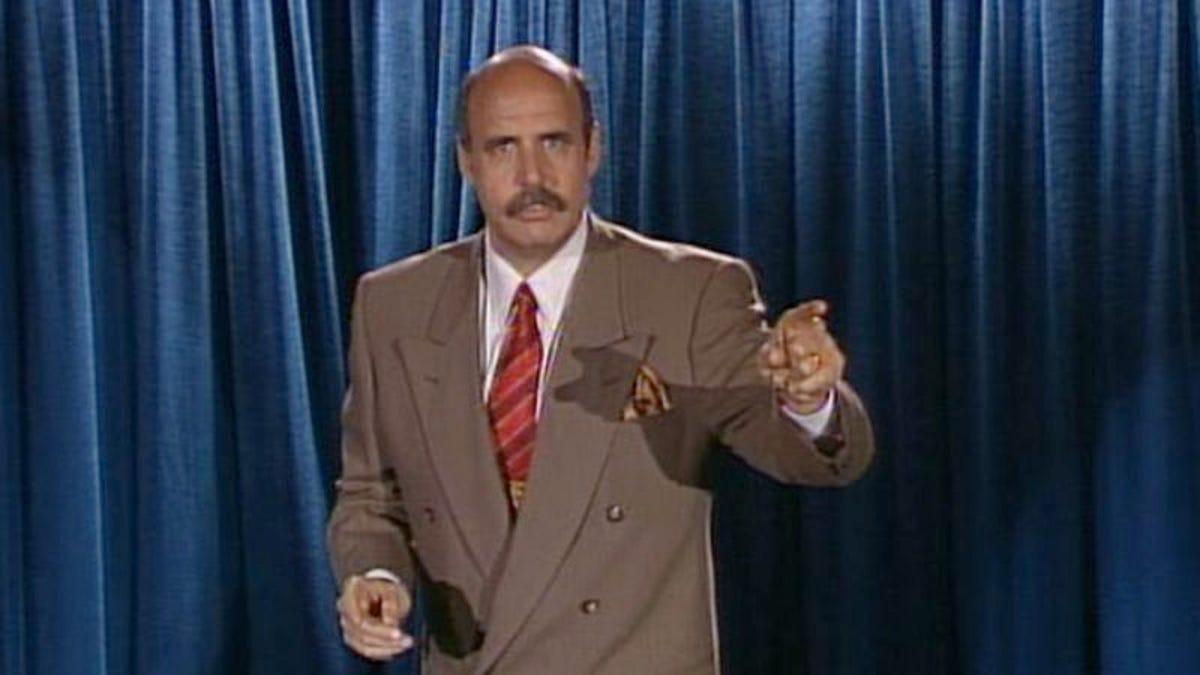 First up is Jeffrey Tambor as Hank Kingsley. Hey now! Hank is Larry's sidekick, his Ed McMahon. He's the worst. The man makes Larry look stable and moral. Hank is a sleaze, so odious and repellent. And I love watching every second of him on screen. I love Arrested Development. Tambor is great on that show. This is his greatest role. Hank Kingsley is an amazing character. That sign doesn't say "applesauce." It says "applause," and Tambor deserves it. I know he's apparently a creep in real life, but god damn could he act.
And yet, AND YET, I don't think Hank is even the best character on the show, or the best performance. Rip Torn is so good as Artie. It's amazing. Like, when I was rewatching the show, I thought to myself, "Is Artie one of the 20 best TV characters of all time?" That may be true. Artie is the show's producer, and one of the only competent people around. He's not just competent. He excels. Artie is a fantastic producer. He gets stuff done. Is his personality perfect? No. He's vicious. You don't want to mess with Artie. He'll tear you apart. He cusses like a sailor and doesn't mince words. Torn is so perfect at the role too. That raspy voice just oozes gruff hostility. Artie can be caring, though. He also loves plants, which is a nice little touch.
Part of the fun of the show is all the celebrities who play themselves. Larry is a talk show guest, after all, and all his guests are real celebs. They get to play against type or get a chance to be mean and vicious themselves. David Duchovny had a few memorable appearances along the way. It doesn't feel as fresh now as it did in 1992 I'm sure, but it's still fun.
If you haven't seen The Larry Sanders Show before, you should really check it out. You can stream the whole show on HBO. It's funny, it's sharp, it's satirical, and it features three of the best characters I've ever seen on TV. No flipping.