Weight loss is a balanced effort of diet and exercise. Using only one of the two will only get you so far, and to maximize your results, you need both. You can't out-exercise a bad diet, just like restricting your food intake without moving your body won't get you the result you dream of.
The 80-20 Principle of Weight Loss
80% Diet
Many people believe that as long as they exercise regularly, they can get away with eating a less healthy diet. Sadly, that's wrong. Why? Because to create a caloric deficit of, say, 500-700 calories, it takes a lot of work.
Some of the most intense 1-hour HIIT workouts might barely get there! And even if your physical condition allows you to do such a workout, it's not something you'll be able to do daily, unless you are a professional athlete.
The truth most of the weight loss happens because of your diet. That's why it's considered 80% of the weight loss effort. Eat a healthy, balanced diet, one that doesn't starve you, but instead gives you plenty of energy that will help you reach your ideal weight quicker.
20% Exercise
If you want your weight loss to last long and if you want to lose actual fat and not muscles, you need to add exercise. According to experts, adding just 2 days of strength training per week will help you build more muscles. This will not only help you look better, but strong muscles help burn fat, especially the one around the midsection!
Sure, you could put your focus on a diet that drastically reduces your calories. But wouldn't you rather eat healthy without starving yourself and move your body a few days a week to maximize your results? If you answered yes, you're in the right place. I'm gonna tell you a few effective weight-loss workouts you can do in the comfort of your home.
5 Effective Weight-Loss Workout At-Home
1. Train your arms with dumbbells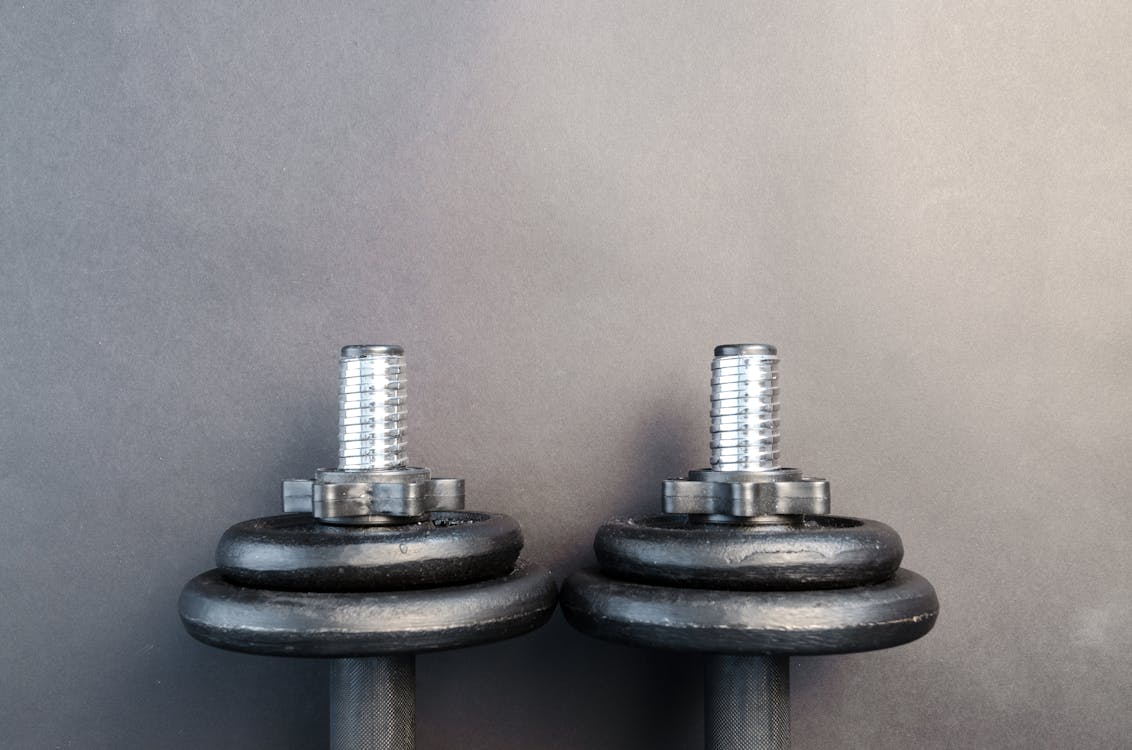 Source: https://www.pexels.com/photo/two-dumbbells-669580/
The arms are probably the hardest to train with only bodyweight exercises. Don't get me wrong, it's not impossible, but your options are limited and you'll quickly reach a plateau.
Dumbbells are a great way to work your arms, shoulders, chest, and back. Essentially, your entire upper body. Think bicep curls, overhead press, bent-over row, hammer curl, tricep extension, chest press, and so much more.
Most of the classical upper body exercises can be done with dumbbells. Another great thing about this versatile piece of equipment is that it doesn't occupy a lot of space, especially if you invest in an adjustable set. They also work muscles in both arms evenly, unlike machines at the gym, where you risk to use one arm more than the other involuntarily.
2. Power your chest with a workout bench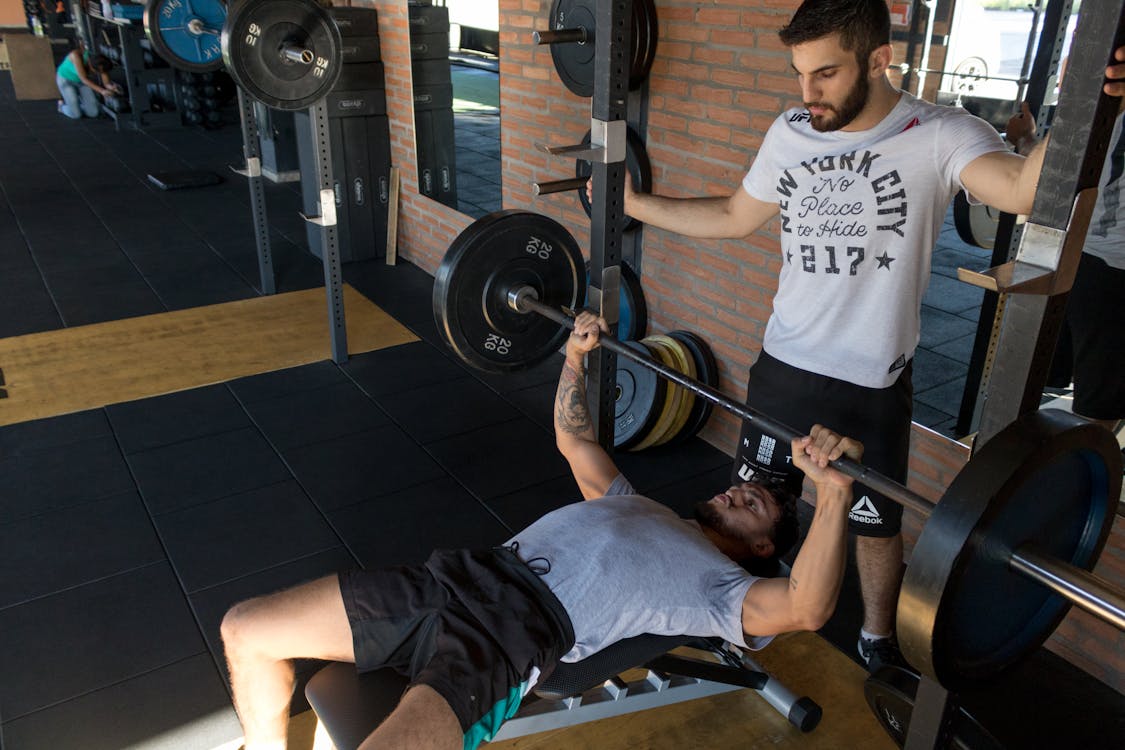 Source: https://www.pexels.com/photo/man-lying-while-doing-barbell-2204196/
To get in the best workout possible for your chest, you should use a workout bench. Some benefits of using one include:
better form;
reduce risk of injury;
the possibility to do a wider variety of exercises.
Some of the exercises you can do at home using a workout bench include:
flat bench press, either with dumbbells or a barbell if you have one available;
inclined dumbbells bench press;
Dumbbell pull-over either with flat or inclined bench.
These are only some of the routines you can do using a workout bench and a set of dumbbells. Thinking of investing in a workout bench? Take a look at some of the best workout benches to maximize your home workouts.
3. Invest in an at-home cardio machine
Source: https://www.canva.com/photos/
Even the most avid weight lifters agree cardio shouldn't be skipped. Whether you do it as your warm-up or part of a HIIT routine or simply as a steady-state cardio session, its benefits are undeniable.
So when you set up your gym, consider investing in an at-home cardio machine. It might feel slightly more expensive than all the other equipment, but if you choose wisely, it will last you for a long time.
For the best results and the biggest variety of workouts, a treadmill is the best option. If you are a beginner you can start by walking on it, upgrade to power walking when you are ready, and finally running.
Need an extra challenge? You can also use the incline to make it more difficult. Some people even create a HIIT workout only with the treadmill, by alternating intervals of running at high speed with low speed.
Don't know what treadmill to choose? Check out this review of a popular treadmill to see what you should be looking at when choosing your cardio machine.
4. Find your favorite HIIT routine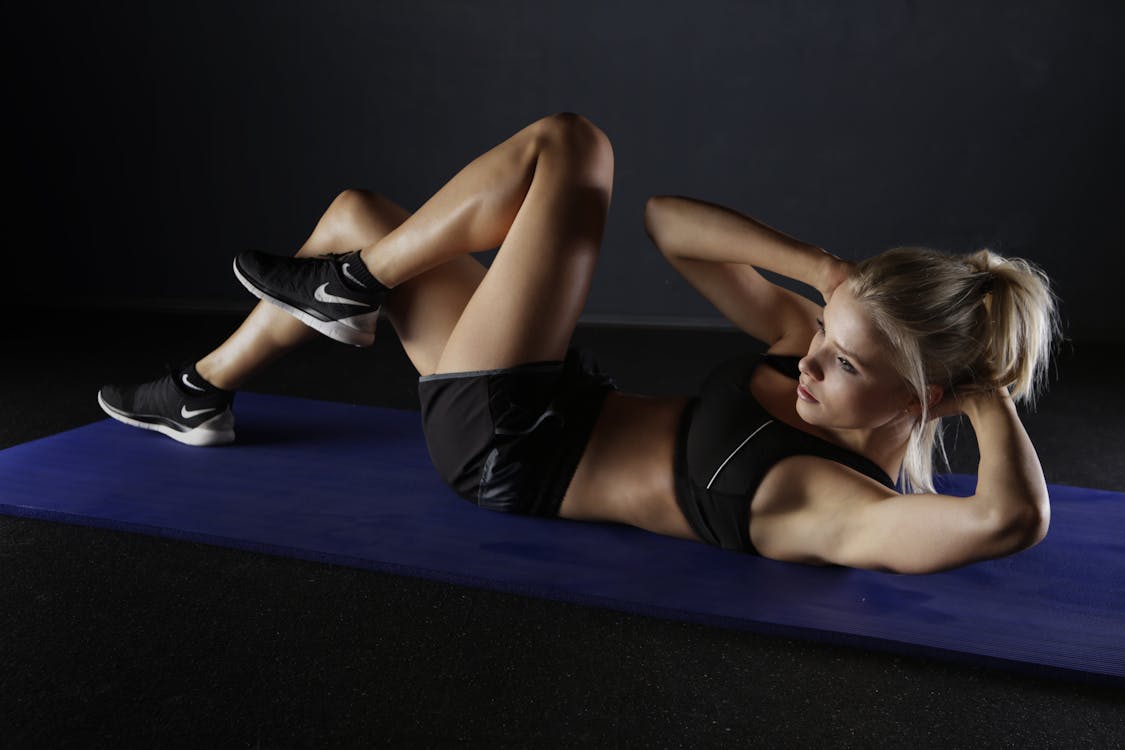 Source: https://www.pexels.com/photo/active-adult-athlete-body-416778/
HIIT (High-Intensity Interval Training) is essential for anyone who wants to get in shape quickly. These workouts are fast, require little to no equipment, and can be customized to anyone's needs.
Don't be scared by the name. Anyone, even beginners can do HIIT. The best thing about HIIT is that it creates something called the excess post-exercise oxygen consumption. In short, this means you'll be burning far more fat than you would by doing hours of steady-state cardio. And, even better, your body will continue to burn fat for a few hours after your workout is over.
How should you do HIIT? The key is to alternate between bouts of high-intensity exercise and low intensity. The entire session shouldn't last more than 30 minutes. For example, you can do high intensity for 30 seconds, and low intensity for another 30 seconds. The intervals don't need to be the same length. Once you get the hang of it, you can start alternating, doing 1-minute high intensity and 30 seconds low intensity for instance. Repeat for 10-15 minutes in total.
5. Stretch your muscles through yoga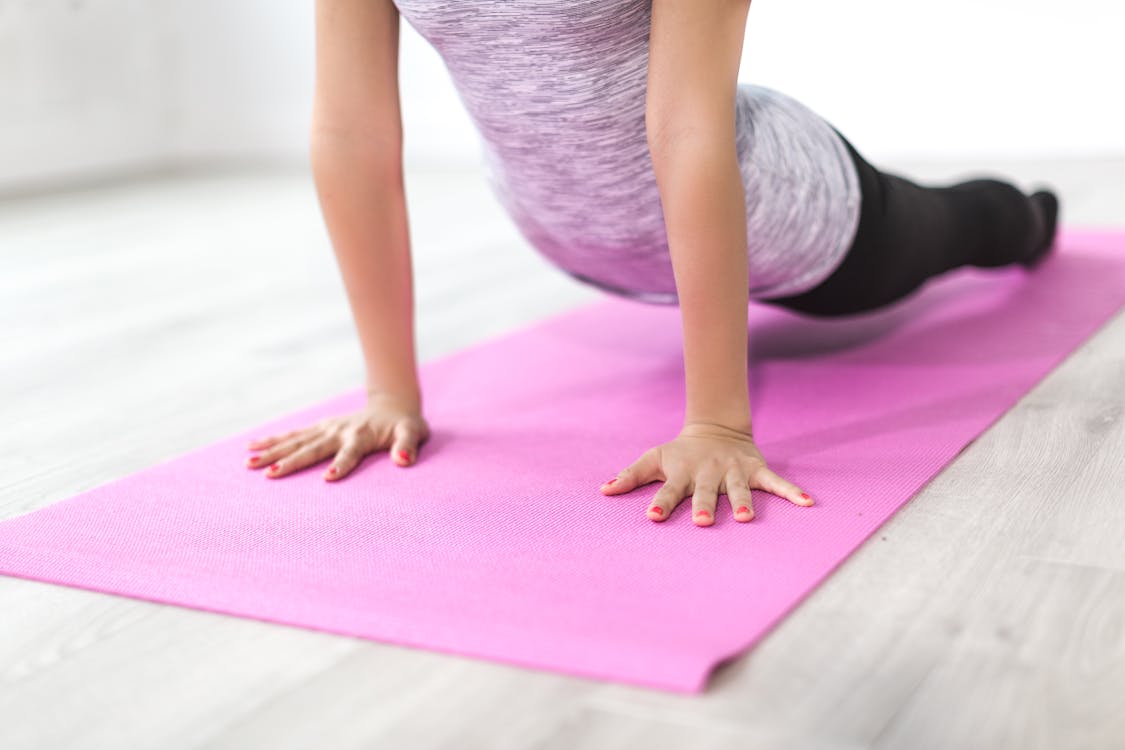 Source: https://www.pexels.com/photo/balance-body-exercise-female-374101/
Finally, don't forget to stretch your muscles. I see a lot of people who skip the stretching at the end of a workout, but that's such a big mistake. Stretching improves flexibility, which in turn reduces the risk of injuries, Also, stretching at the end of the workout reduces and can even prevent soreness.
For better flexibility, consider adding one day of yoga to your workout routine. It doesn't have to be something intense, and you don't have to do crazy poses or stay on your head. With yoga, a little goes a long way!
Tips For Losing Weight Without Going To The Gym
Source: https://www.canva.com/photos/
Whether you go to the gym or workout at home, weight loss always starts on your plate. Make the best choices for your body in terms of nutrition: eat whole foods, don't starve yourself, and drink enough water.
As for working out at home, I find one of the biggest challenges is creating a routine and sticking to it. The best thing you can do is to create your own schedule. Take some time to sit down and write your workout routines in your calendar. Don't make the mistake to think you'll get to it when you have time. Chances are you won't make time!
Finally, don't set impossible goals. Create a diet and workout plan that you can stick to for a long time. Essentially, aim to change your lifestyle, don't look for a quick fix, because those results won't last. If you find something you like, the chances of sticking to it are greater even if you can't go to the gym.