I have not seen the movie Cats. I will not see the movie Cats. I knew that before I had even seen a trailer for the film. Cats, as an animal, I'm all for. Anything related to the musical Cats, though, is a pile of nightmarish garbage that I can't imagine, and it just gets worse and worse with every iteration.
This all began with T.S. Eliot's weird poem that's just a list of ridiculous cat names. It's totally goofy and bad, but it's a trifle. There is no story. It's just a guy who likes words and the way things sound and look together. It's whatever. Again, I have to reiterate there is no story. There is no narrative. There are no characters even! It's just names and sort of some traits I guess?
This did not deter Andrew Lloyd Webber. I am admittedly not a fan of musicals. And yet, I can honestly say that Cats is maybe the worst musical ever. The songs are so bad. The story is ridiculous. There is basically no story still. On Unbreakable Kimmy Schmidt there is a joke that Cats doesn't really exist. The whole play is desperate stage actors making their own costumes and then jumping on stage and making it up as they go along. That feels almost too kind to the play. I despise basically every character name. Rum Tum Tugger. Grizabella. Old Deuteronomy. Oh, and the costumes look terrible.
Which brings us to the movie. Why did all these famous people agree to do this? I did not watch the trailer on purpose. I've only seen bits and pieces of it. Jesus, does it seem like a nightmare. Everybody looks so messed up. They've taken a terrible, annoying, grating musical full of bad songs and minimal story and turned it into a Hollywood spectacle that some are calling the worst movie of the year, and perhaps the decade. No, seriously. You know Peter Travers? The film critic who gets blurbed in seemingly almost every trailer and poster? He seems like he enjoys a lot of stuff, or at least is nice enough about movies that you can take things he says and blurb them. The dude gave Cats zero stars and called it the worst film of the decade.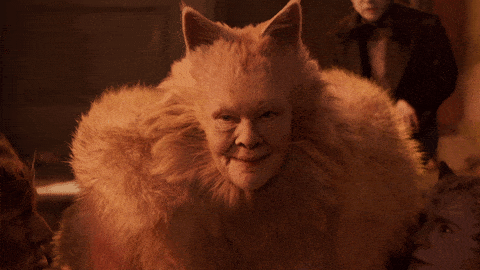 In a way, we are lucky to be present for such a spectacular nightmare. There's nothing abhorrent or morally bankrupt about Cats. It's something we can hate and be freaked out by and talk about breathlessly that's harmless. Other than the disturbing nature of, well, everything. The most famous song of the play is "Memory." All the memories of Cats are sure to be terrible, but in a wonderful way.