I know this will shock you, but some people think The Simpsons isn't as good as it used to be. Yes, there are some out there that feel like the iconic cartoon lost a step along the way. I will give you a second to collect yourself. OK, and now I will stop being so fatuous. People have been saying The Simpsons isn't as good as it used to be for 20 years at this point. Honestly, I kind of agree to some degree. The first nine seasons are great. The 10th season is still really good. After that, it gets sort of hit or miss.
However, unlike most Simpsons lovers I have not given up on the show. I have seen every episode, and I intend to watch the show until it ends, whenever that is. Admittedly, the last five or six seasons have been pretty middling. There have been no great episodes, and only a few really good ones. Among those strong outings, though, is a Christmas episode from the 26th season called "I Won't Be Home For Christmas."
Frankly, a show existing for 26 seasons is incredible. Being able to do anything the least bit good after hundreds of episodes is even more amazing. Granted, Christmas carries a lot of weight that makes storytelling a little easier. We understand the emotional heft of Christmas. That being said, not every show nails its Christmas episodes. Even The Simpsons have done a few mediocre ones. Fortunately, "I Won't Be Home For Christmas" is not one of them.
A lot of Simpsons episodes are silly. This one, though, is on the emotional side. Homer has promised Marge he will be home early on Christmas Eve to spend time with his family and to be there for Christmas morning. However, after a car accident he stops into Moe's for a quick drink, and he decides to stay a little while because Moe is depressed and lonely. This causes Homer to lose track of time, so when he gets home Marge is furious and kicks him out. Because of this, Homer is left to wander Springfield all night on Christmas Eve.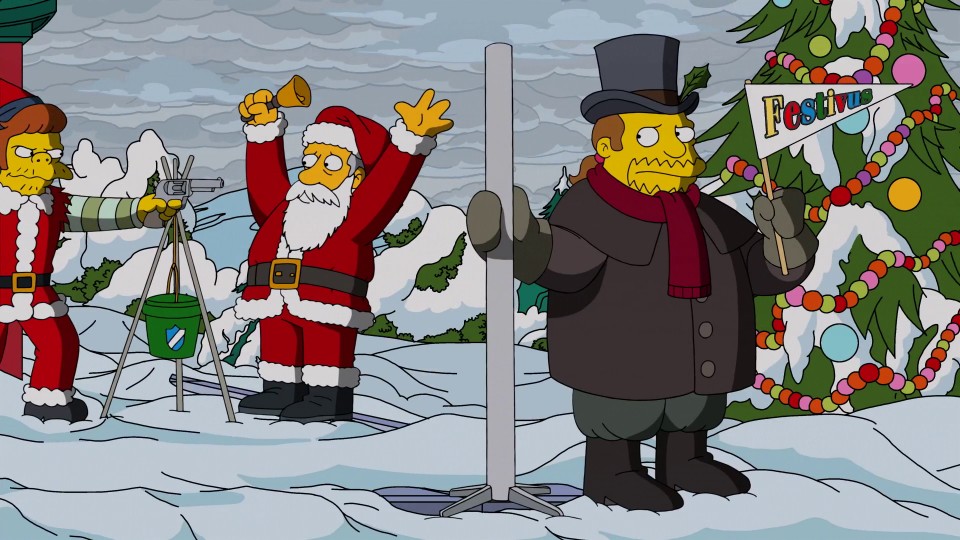 Kind of a bleak premise, huh? There is a lot of material made out of people's unhappiness and loneliness on Christmas. Homer goes to see a movie alone along the likes of other loners like Kirk Van Houten and the Crazy Cat Lady. He has a talk with Ned Flanders, of all people, about how Ned handles the holidays as a widower. Eventually, Marge finds out the truth from Moe, and she heads out to find Homer. They end up running into each other at a dismal party for people who were stuck working at the mall during the holidays. It gives them a happy ending, but they seem like the only ones.
I think part of why this episode worked so well for me is that it's mining material The Simpsons doesn't always do. There are jokes, but I feel like the plot, and the emotions of the story, is what makes this a strong outing. For laughs, there's that Simpsons episode with Funzo and Gary Coleman. For pathos, there's "I Won't Be Home For Christmas."