Silicon Valley just finished its run. It was a really funny, often pointed look at the world of modern technology. This got me thinking about another show about computers, the internet, and technology that you may want to turn to now that the Pied Piper gang have hung it up. We're always taking a jump into the past, because I'm talking about the AMC show Halt and Catch Fire.
You may have missed Halt and Catch Fire during its original run, and that's totally fair. The show had meager ratings, but AMC was nice enough to five it four seasons to tell its story. This personally led to me being a bit disappointed when AMC cancelled Lodge 49, another really good, but seldom-watched, show that I happened to be part of the small audience of. Eh, you can't win them all.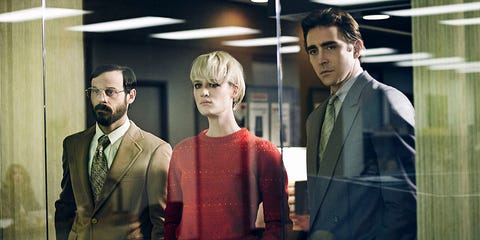 It's also possible you tried out Halt but then decided it wasn't for you. I can also understand this. Here's the awkward thing about recommending a binge of this show: The first season is middling. It's still decent, but it really picks up in the second season, and then takes a huge jump for the third. Binging it over one weekend, though, you probably can't get through all 40 episodes. You might not even get into the third season unless you're really into it, still, I'm recommending it because, in time, you should really watch Halt and Catch Fire.
The show follows the rise of the personal computer, and then the internet, from the early 1980s through the early 1990s. The journey begins in Texas, before heading to California, but it focuses primarily on four, sort of five, people in the industry. Early on, Lee Pace's Joe MacMillan is the de facto main character, and he seems like a real Don Draper clone. This is from the not-so-good early five or six episodes. Joe becomes a better character, but he's also the least interesting of the main four.
Instead, I like to focus on Gordon Clark, Donna Clark, and Cameron Howe. They are played, respectively, by Scoot McNairy, Kerry Bishe, and Mackenzie Davis. All three of them are so talented, and they all find their characters pretty early on. It took Howe a little while longer to hit the right note with Cam, which makes sense because she is the rebellious punk genius when the show begins. Eventually, though, she became part of a powerful ensemble. Also, the show started to focus more and more on the characters and not the technology they are working on. The tech became a vessel for the story of humans.
From its rough beginnings, Halt and Catch Fire became a gripping, emotional, riveting series. You can't really skip those early episodes, though, to truly appreciate the story. So this weekend maybe you can plow through to get to the good stuff, and hopefully it will prove worth it to you. Consider those early episodes the thing that get you to the thing, to borrow a phrase from this little seen, but rightfully passionately adored show.