When you think of The Simpsons, the first holiday you are going to think of is Halloween. That's because every year they have their "Treehouse of Horror" episode. However, Christmas has been a frequent topic as well. That's not surprising, of course. Television shows love Christmas, and The Simpsons has done over 650 episodes If they didn't have at least like a dozen Christmas episodes that'd be weird. I am going to write about a few of them this month for the occasion of the season, starting with a little episode called "Simpsons Roasting on an Open Fire."
You may also know this episode as the very first episode of The Simpsons. Yes, this iconic sitcom started with a Christmas show. That wasn't the intention. The first episode was supposed to be "Some Enchanted Evening." That ended up being the final episode of the first season because the animation came back from Korea looking terrible. There was panic that the show was screwed. Spoiler alert: It wasn't.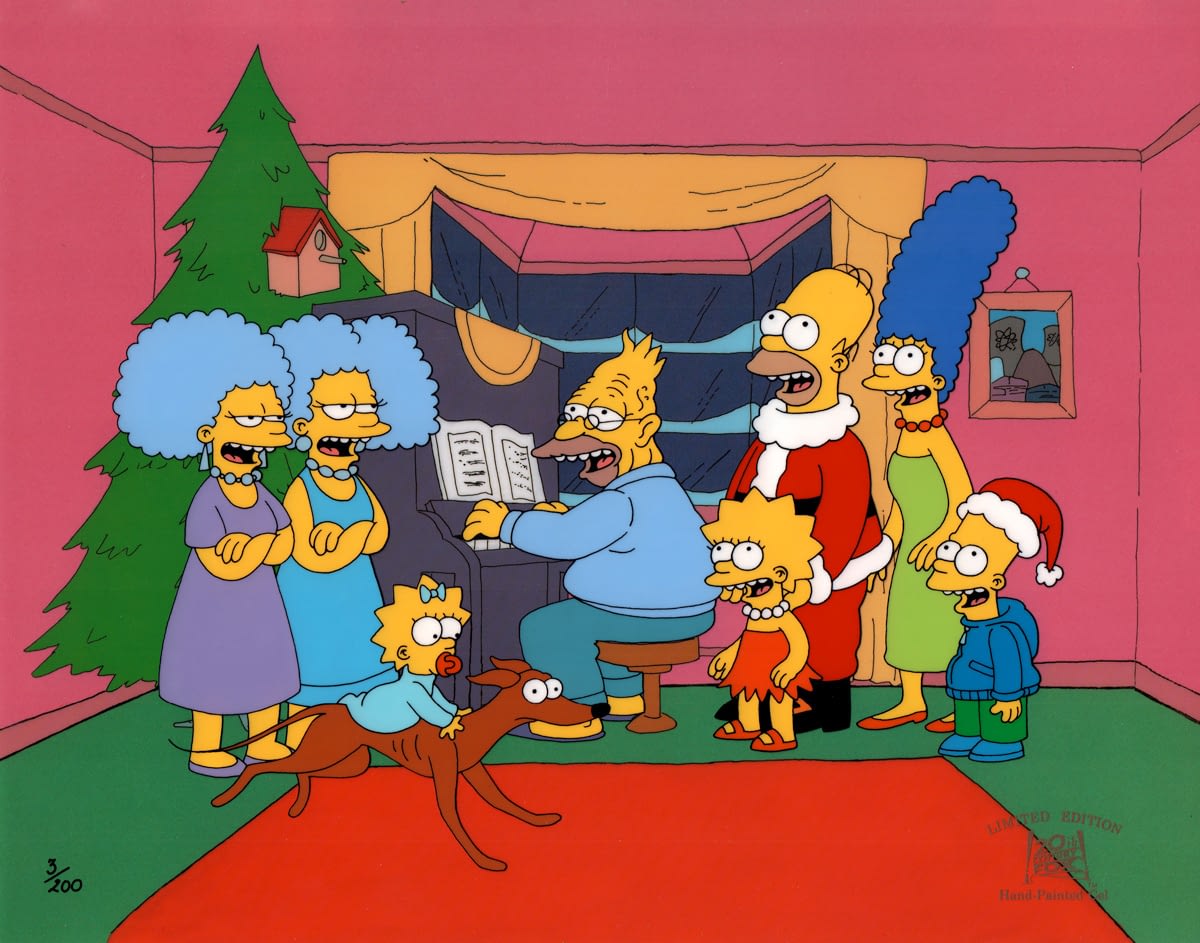 Thus, "Simpsons Roasting on an Open Fire" ended up being the first full-length episode of the greatest show in TV history. This is not the greatest episode. There was really good TV being made in 1989, and before that, but most of it wasn't animation. Plus, almost every show goes through growing pains. What I'm saying is that "Simpsons Roasting on an Open Fire" is not an all-timer. However, you don't have to cringe through watching it either. I never really return to it by choice, but a couple years ago I saw it at a Simpsons trivia night. It was pretty good! The animation looks rough, and the voices are different, but it's still funny and sharp and has that essence of the show it would become in there.
Plus, "Simpsons Roasting on an Open Fire" is vital to the show's lore. The episode culminates with the Simpsons family adopting Santa's Little Helper, a dog that was abandoned at the racetrack. He would go on to be the family's dog from then on. It's a sweet ending for a show that likes to occasionally go in for a hug instead of hitting you with a bit of satire or a dark joke.

Some episodes of television you remember because they are great. Some you remember because they are important. "Simpsons Roasting on an Open Fire" is more the latter than the former. If I am sitting down to watch a Christmas episode of The Simpsons, and I definitely will during the holidays, it won't be my choice. However, it is interesting to return to, if only to see where it all began.