It's the holiday season. I'm not trying to get that weird Christmas song in your head. I'm just saying it by means of starting my binge recommendation. It's still too early in the month for you to really just luxuriate in your time off and sink into bingeing. However, you are probably in present-buying mode now, and so I wanted to recommend a ridiculous, but fun, game show that centered on consumerism. I speak, of course, of Supermarket Sweep.
I am focused on the '90s version that was hosted by David Ruprecht. He also hosted a reboot in the early 2000s, which is fine if you are catching the show on Buzzr, but if you are choosing the episodes you watch, stick to the '90s. Supermarket Sweep is, as far as I know, the only supermarket-based game show out there. The show is brimming with '90s signifiers and bad sweaters, and the two are kind of the same thing at times.
Three teams of two are vying for glory, and there are technically some games that involve guessing prices and knowing items found in the supermarket. Let's be real, though. We all know why we watch Supermarket Sweep. It's for the actual sweep. The early rounds are about accruing time for your sweep. Then, in that time you go through their ersatz supermarket to gather as much cash worth of groceries as you can. There are giant bonus items with mystery prices. There are little challenges you have to do, like grinding a bag of coffee or finding a certain can of food in a big barrel of cans. Whoever has the most money in groceries goes on to the final round, where they look for three items to get the cash.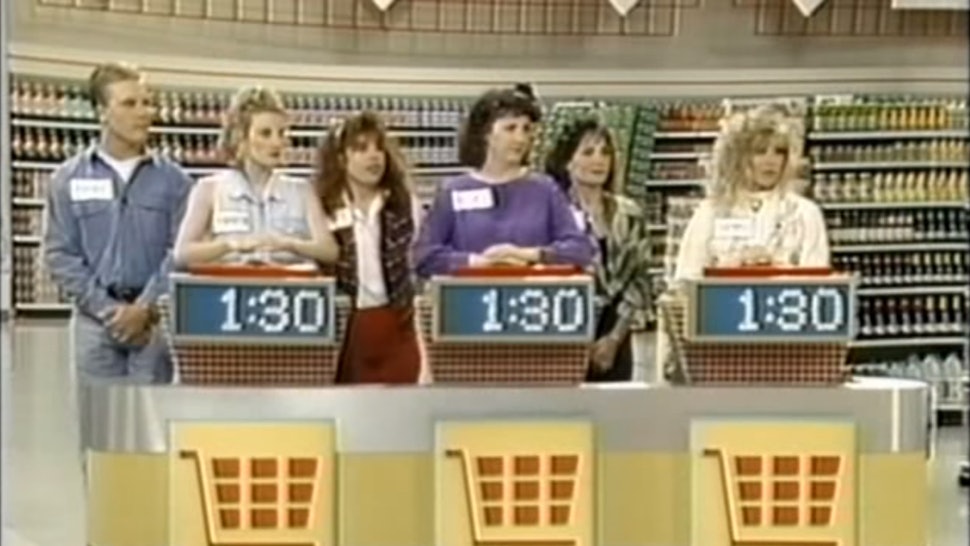 Yes, everybody basically does the same thing. They go for the big slabs of meat and the cheeses. They grab baby products, because those are super expensive because the companies know you have to buy these products for your kid so they can jack up the prices because even your baby isn't free of the amorality of capitalism. And yet, I still always enjoy watching the sweeps. If I'm flipping channels and I see the sweep is about to start, you better believe I'm staying until I see who has won.
Your own shopping may be stressful, but David Ruprecht and his terrible sweaters and a bunch of big slabs of meat are there for you this weekend.