A lot of times with my binging recommendations I will suggest catching up with a show that is returning. Well, this time I made a mistake. I am here to recommend binging Silicon Valley, even though it has now aired two episodes of its new, and final, season. My bad! However, that means there is still time to catch up. If all those people were somehow able to catch up on Game of Thrones prior to the final episodes you can do this. Also, Silicon Valley is a really good show and Game of Thrones sucks, so it'll be a better experience anyway.
The interesting thing about HBO's Silicon Valley is that it takes place in the world of technology and the internet, which is a world that is forever changing. That means the show has adapted as the years have gone on, and presaged some stuff that has actually happened. Plus, the show was created by Mike Judge, so it has a track record of success behind it.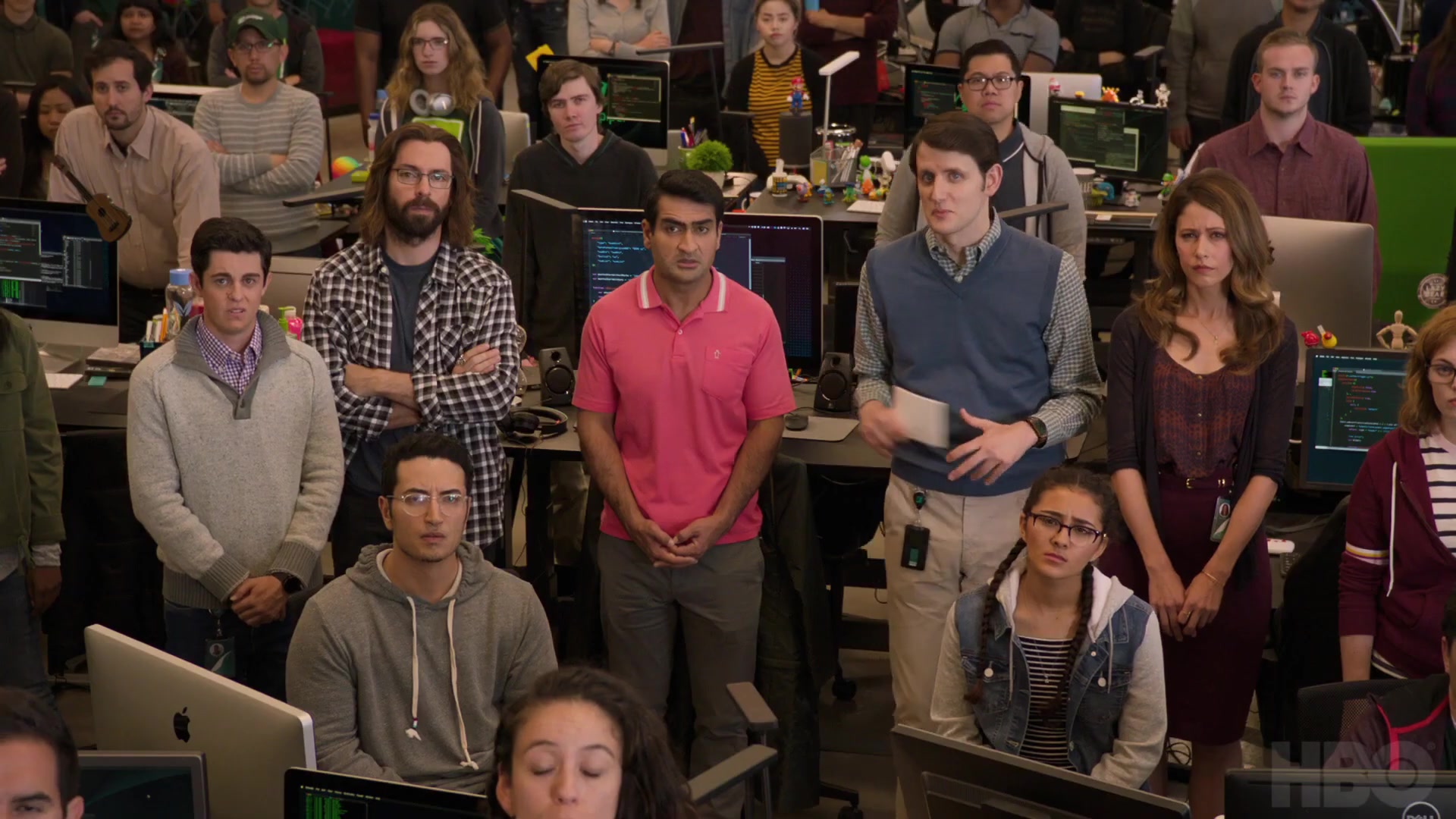 Silicon Valley is an ensemble show, though that ensemble has changed over the years. The focal point through it all, by and large, has been Thomas Middleditch as Richard Hendricks. He's a struggling coder in the first season, but then he comes up with an algorithm that gives his company Pied Piper an edge. It's hard to cover everything that happens from there. The show gets very expansive, and it also really delves into the minutiae of Silicon Valley. I have to admit I don't understand some of it, but that's alright, because they do a decent job of explaining the more complicated stuff.
Also, the show is just full of raunchy jokes when they aren't talking about tech nonsense. At its core, Silicon Valley is fairly low brow, but not in a bad way. It's often a really funny show. Middleditch does awkward, twitchy intensity quite well. The show has quite the ensemble too, including Martin Starr, Kumail Nanjiani, and Zach Woods. For the first few seasons, T.J. Miller's Erhlich Bachman is also one of the key cogs. If anything, he's the second-most-primary character behind Richard. Bachman was quite funny, but then Miller decided he wanted to leave the show. Also, then it turned out that he might be totally insane and a real creep. So, you know, there's that. He's a really funny character though.
The stakes and storytelling of Silicon Valley are sharper than a lot of comedies. It's not one of those low stakes, hangout shows. There's usually some momentum propelling Richard and company forward, often toward calamity. Hey, even though you'd missed a couple episodes sixth season you'll be fine. As of this moment, only 48 episodes have aired. You could knock that out in a few weekends. If you are looking for a smart comedy to watch, I would recommend doing just that.