The future is now, ladies and gentlemen, and you know what that means: The whimsical world of sex toys now includes some of the most technologically advanced pleasure products known to mankind. We don't even have to move a muscle anymore, and we certainly aren't required to buy dinner before getting a good blowjob. These devices have revolutionized the industry and transformed the way we experience orgasms. Best of all, they're getting better every single day.
What Makes a Sex Toy High-Tech?
Back in the day, our marital aids were a joke. The simple fact that they sort of resembled the human genitalia was considered a "high-tech" feature. These days, however, products are lot more realistic and a lot less embarrassing to use. With the taboo lifted and the industry's best innovators following suit, men and women from all walks of life can finally explore their sexual limitations through technologically advanced mechanisms like on-board computers and wireless connectivity.
The kink and copulation arenas are rapidly changing and expanding at a significant rate, but the best-equipped manufacturers remain poised to supply the increased demand. Some of the most popular high-tech features include, but are definitely not limited to, the following: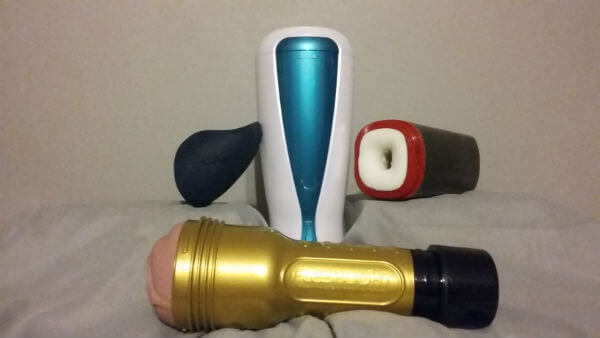 This technology was one of the very first to be integrated into modern-day male sex toy. It allows device users to enjoy a variety of different sensations through Teledildonics and it's incorporated into most products aimed at couple's play.
The same technology that allows your smart phone to sync to the radio in your car is now utilized in pleasure products. It allows one or more devices to link to one another or access an online porn library hosted by the manufacturer or an affiliate.
Using both motion sensors and Bluetooth, toys with virtual reality capabilities let users experience a real-time playout of their most intense fantasies. This technology usually requires some extra equipment like VR goggles and internet connections.
The old bullet vibrators are still relevant for certain purposes, but integrated vibrating motors make it so much easier for users to control whether they want to turn on the feature or not when using things like dildos and male masturbators. Usually, the higher the technology on the device, the more vibe options you have to choose from.
Using these things with a partner is one thing but allowing them to control the functionality of the toy from afar is something completely different. Thanks to the innovations of today's top manufacturers, that's now a real possibility with most devices.
Touch-Sensitive Interfaces
When devices aren't completely wireless (and even sometimes when they are), manufacturers will design them with built-in, touch-sensitive control interfaces that allow you to adjust or customize the various settings – speeds, intensity levels, patterns, etc.
Gone are the days of buying mountains of batteries for your sex toys (at least for the most part). Now, the majority is rechargeable via USB or can be plugged directly into a wall outlet. Only a few require commercial batteries anymore, so it may be time for an upgrade to your stash.
It doesn't take a genius to control all of these high-tech features either, because in many cases it only takes a smart phone and a free downloadable app to access all the wireless compatibility and virtual porn content you want.
SIDE NOTE:
Granted, most of these features exist on men's sex toys primarily, but the female-based products are quickly catching up. As a matter of fact, some of the best tech toys for men are compatible with other high-tech devices (including a few the ones made specifically for women). Furthermore, these products are considered "high-tech" mainly because they offer a variety of adjustable and/or customizable functions. Therefore, you can go as simple or complex as you wish and still enjoy maximum quality.
Traditional VS Tech: Which One Is Better?
Unfortunately, some people just don't understand why the sex toy that's been getting them off for so long isn't worthy anymore. There's no need to get attached, and it's especially easy to let go of your old devices once you consider all that these technologically advances products have to offer, including:
Unlike traditional toys, tech-savvy devices are designed with the user's interests and desires in mind. They're not only built to last and shaped according to the average person's body but they're also equipped with some of the industry's most beloved features and are much easier to use than old-school models.
Industry-Leading Ergonomics
Although people's bodies are extremely unique, ergonomics is a science which reveals the most convenient design of any man-made object as it pertains to that object's intended purposes. Fortunately, modern manufacturers have started incorporating that knowledge into their toy's overall design and the average consumer couldn't be happier.
Adjustable Sizes and Settings
Some of today's best men's sex toys can be adjusted in size and shape to better suit the user. Until just recently, that typically included things like penis pumps and extenders, but now it includes toys such as prostate massagers, butt plugs and masturbation machines as well. This techie transformation in the industry has finally opened the doors of pleasure to men (and women) with anatomical or performance limitations.
Your old sex toys can't link up with your partner's device for a real-time, remote experience but these new-fangled products certainly can. Nowadays, you can make love to your honey from across the world or switch it up to have sex with your favorite porn performer. All you need is the right equipment and the best toy to make it happen.
Keep in mind that not all high-tech sex toys for men or women have every feature mentioned above. There are tons of unique combinations, but the point is that intercourse and masturbation are much more customizable now.
The 3 Toys with the Best Technologies 
Technology is widespread in the modern world, but it still doesn't touch every product on the market. When it comes to pleasure devices, quite a few have been hit hard by the current tech trend and thus, they almost always feature mechanical superiority. Enjoy the steadily increasing advancements by checking out these three toys first:
Male Masturbators
Made for men to insert their penis deep inside a highly texturized canal, high-tech male masturbators can be automatic or manual, but they generally use Bluetooth connectivity and/or internet services to operate features like motion sensors, virtual reality experiences and tailored sessions aimed at stamina training, performance enhancement, and fantasy fulfillment.
Prostate Massagers
Some of these toys can also be synced with other devices for a real-time and/or hands-free experience. Many feature an array of built-in vibration settings and a few can even deliver electrostimulation pulses to the point of contact through remote control. If you would like to know how to choose the best prostate massager, check out this guide on The Rackup.
Vibrating/Thrusting Dildos
Not quite as common as the previously mentioned devices, these toys often come with integrated/internal mechanisms that work via the press of a button to vibrate, thrust or both – without needing batteries, special skills, extra equipment or even a partner. And although they're aimed primarily at women, these tech-tastic products can be enjoyed by adventurous