My two favorite shows of all time are The Simpsons and Futurama. Obviously, those shows have a few things in common, most notably that they were both created by Matt Groening. I'm not recommending to binge either of those shows this weekend, although if you want to go nuts. No, I'm here to recommend you binge the latest show from Groening, one that has only just begun its journey. I'm talking about Netflix's Disenchantment.
This is a fitting time to recommend the show, and I assure you the timing was in fact intentional, because the second half of the first season drops on Friday the 20th. When I heard about Disenchantment, obviously I was intrigued. Not only was it created by Groening, it had a lot of my favorite writers from his other shows working on it. I was not expecting something as good as The Simpsons or Futurama. I wasn't clearing off space in my top five shows ever for it. And then, much to my surprise…there was no surprise and I was right. Disenchantment isn't on that level, but it is quite good.
Futurama is a sci-fi cartoon set in the future, and Disenchantment is sort of its flip side. It feels like Groening saw the rise of fantasy and decided he wanted to parody it. The show is set in the past in some magical kingdom. It's like a comedy Game of Thrones without the brutally pointless violence. I don't love the fantasy genre, which probably curbs my ability to enjoy it, but I am conversant enough to appreciate the parody elements.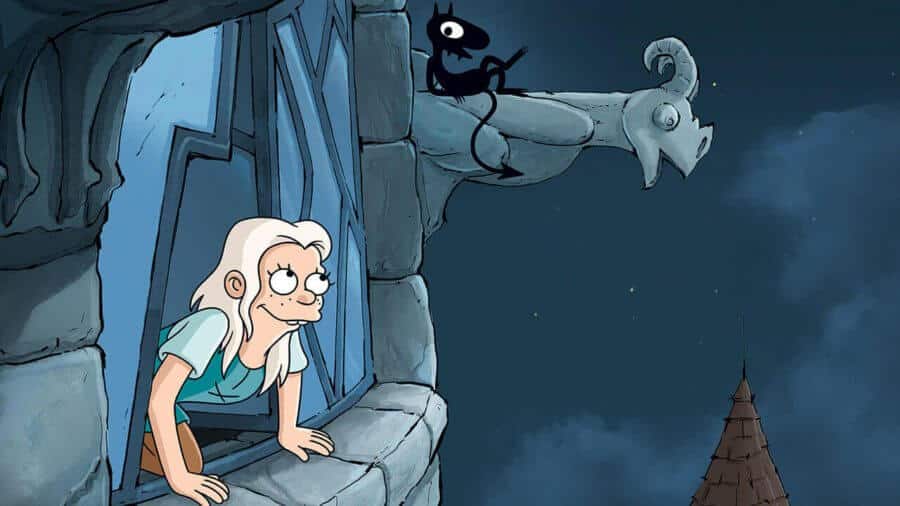 The protagonist, the Fry if you will, is Princess Bean, a rebellious teenaged princess who loves to drink and party and doesn't care about being a princess, especially the part where her dad wants her to marry a prince to create peace between kingdoms. She befriends an elf named Elfo, who is very enthusiastic and optimistic. Then, there's Luci, her own personal demon. Elfo and Luci, as you can probably guess, are almost akin to the devil and the angel on Bean's shoulders.
Disenchantment's first 10 episodes were good. There were a lot of strong jokes, especially sign gags. I laughed quite a bit. However, the show has a lot more ongoing story than The Simpsons or Futurama. There, it plays into the modern, binging world of Netflix. It doesn't seem to be the strong suit of Groening and his compadres.  Still, when the first 10 episodes came to a conclusion, I was intrigued by the cliffhanger.
If you haven't started Disenchantment yet, this could be the weekend to do it. Hey, maybe you'll even get through the full 20 episodes of the first season. Or maybe you're like me and you've already seen the first 10. Well good news! There will be 10 more to watch this weekend. Bean is no Fry, and Elfo is no Bart, but judging Disenchantment on its own merits makes it clearly a show worth watching…or binging.