Food can be delicious and tasty, but there are dishes over the world which are also very expensive. How much money would you spend to enjoy a good dessert? Well, if you don't pay attention to prices, there are many luxury dishes you can buy.
Chefs from all over the world try their hand at creating fancy desserts which taste well and are beautiful to look at. There are dishes created from sophisticated and sometimes almost impossible to find ingredients. Only the wealthiest people can afford them, and the rest can only read about them.
Chocolate pudding
Marc Guilbert, head chef at Lindeth Howe Country House Hotel in Windermere (England), made a dessert worth 35 thousand euros. Its ingredients include edible gold leaves, champagne jelly, and four different types of Belgian chocolate flavoured with peach, orange and whiskey. By giving it the shape of Fabergè eggs and embellishing it with a two-carat diamond, Mr Guilbert has made it a true luxury dessert.
Platinum cake
This dish was created in Japan. Local chef Nobu Ikara made a cake of platinum rings worth $ 130,000. Such a cake is ideal for a couple in love. It's decorated with white glaze and draped with platinum ornaments, including chains, necklaces, pendants, pins and similar foil. Ikara dedicated the cake to women to convince them to wear platinum. The cake was displayed at Platinum Guild International, which led to an increase in jewellery sales. The cake itself was never purchased because it costs much more than many can afford. The future owner will not only be able to taste the platinum dessert, but also to wear some of its elements.
Luxurious French Macarons
Macarons are very popular in France. You can find them in all sorts of flavours and colours and usually, they are not too expensive. However, the French pastry chef Pierre Herme wanted to try something new, so he created extraordinary macarons which have surprising flavours and colours, such as balsamic vinegar, red wine, peanut butter, ketchup, pink chocolate. All of his sweets are delicious and creative, that's why you must pay 6500 euros for a small box of Herme's macarons.
Sultan's gold cake
Ciragon Palace Kempinski is an Istanbul's hotel in which you can taste real gold. Turkish chefs work for 72 hours to make an unusual golden cake – a bar of edible gold adorned with black truffles, apricots, pears and dates marinated for two years in Jamaican rum. On top of it, there are beautiful leaves of 24-carat gold, French vanilla and caramel. When served on the table, the cake itself is not placed on a plate, but on a handmade box of silver with a gold seal. As a rule, such an expensive dessert is ordered in the most solemn occasions – for a wedding or for the sultan himself.
Vintage chocolate
Chocolate from Noka Chocolate costs $ 854 per pound. The company has become famous for its quality product known worldwide. Noka uses different kinds of cocoa from such exotic places as Venezuela, Ecuador, Trinidad and Cote d'Ivoire. The sweets presented in the Vintage collection are created exclusively from dark varieties, which contain at least 75% of the cocoa. For chocolate tasting beginners, Noka offers several options of sweets, created according to different principles. Each box is expensive, and it's a dessert packed according to the company's classic rules.
Frozen Semifreddo Dessert
Manhattan's Waldorf-Astoria hotel is famous for delicate dessert, which you can taste in Peacock Alley restaurant. It offers a frozen dessert, decorated with edible gold leaves, crumbs of biscuits and a vanilla foam cap with truffles. At first, the dish was the restaurant speciality, and it was offered only to select guests, but its popularity brought it to the main menu. This dessert costs $ 50, so it's not as expensive as other dishes presented in this article, yet it's certainly worth trying.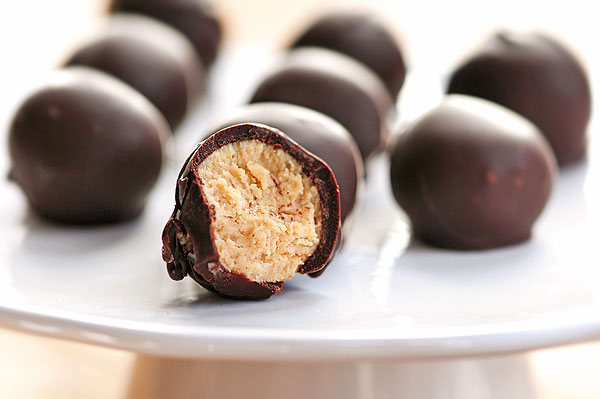 Chocolate balls with filling
It is believed that soon, the most expensive desserts in the world will be prepared in Dubai, where local chefs try to elevate their skills as high as possible. At the local Burj Al Arab, guests of the Al Mahara restaurant can order a very refined and delicious dessert – small chocolate balls filled with fruit. At the same time, they must be eaten in a special way – by pouring hot chocolate from a unique fountain. A stream of warm sweetness melts a thin layer of balls and exposes their stuffing – a souffle of lemon, mango and passion fruit. The minimum dessert price starts from $ 48.
Chocolate handbag
Paris is the recognized capital of fashion. So in hotel Le Bristol, you can order a bag made from chocolate. It can't be carried, but you can also taste it. Only for $ 43.5, you will be able to find that inside the chocolate delicacy there is a filling of mint cream and raspberry sauce.
Golden Opulence Sundae
In New York, you can enjoy the most expensive ice cream on Earth. Served at the Serendipity 3 restaurant, the Golden Opulence Sundae costs $ 1,000 (around 740 euros). For this price, you will be entitled to taste five scoops of Tahitian vanilla ice cream, Madagascar vanilla cream, Amedei Porceleana chocolate (the most expensive in the world), and Chuao chocolate (one of the rarest kinds of chocolate). Small bonus: this sundae is covered with edible gold leaves 23 carats. For those who wish to have this "little" pleasure, remember to reserve this dessert two days in advance, because this is the time necessary to gather all the ingredients and to make the dessert.
Conclusion
As you can see, there are plenty of expensive dishes containing chocolate. Would you spend such an incredible amount of money to taste them all? The impression would undoubtedly be amazing.