English, what a miracle of a language, eh? Spoken all over the world, the lingua franca of the modern people, and yet, exists in so many variations that even we, the Canadians, sometimes pose ourselves a question: what it means to speak and write the Canadian English? There is no single answer to the aforementioned question, as the Canadian English differs both from the American and British English. Well, we fancied going online and getting a summary ready for you.
Spelling
Writing as a Canadian is without a single shred of doubt one of the biggest challenges to be thrown at you as a writer by Canadian spelling of English. This hoax is quite widespread online. As a matter of fact, Canadian spelling is almost the same as in British English. For instance, instead of the simplified American variants of center, color, and check, you will have to write centre, colour, and cheque. The majority of students that make it to the Canadian universities always have one and the same question on the minds: how do I write my essay? At first sight, it seems to be quite a bothering order to cope with –  how to write an essay the Canadian way? Just make sure that you stick to British spelling and just follow the essay format assigned by your professor.
Nevertheless, do not be fooled by the relative generality of the rules of Canadian spelling. Remember, Canada is a vast country and the spelling rules, as well as the accent usage principles, differ across its territory. As soon as you start moving toward the Southern border of the country, you'll almost sure notify the American trends in the spelling. For example, the verbs ending in –se in British English will almost sure have –ze as their flection. That is, you will see the people writing analyze instead of analyse. Thus, Canadian words are the English words, while it's up to the Canadians themselves to choose the spelling pattern that they like the most. Still, it is always better safe than sorry. So, my advice is to stick with British spelling when writing a paper.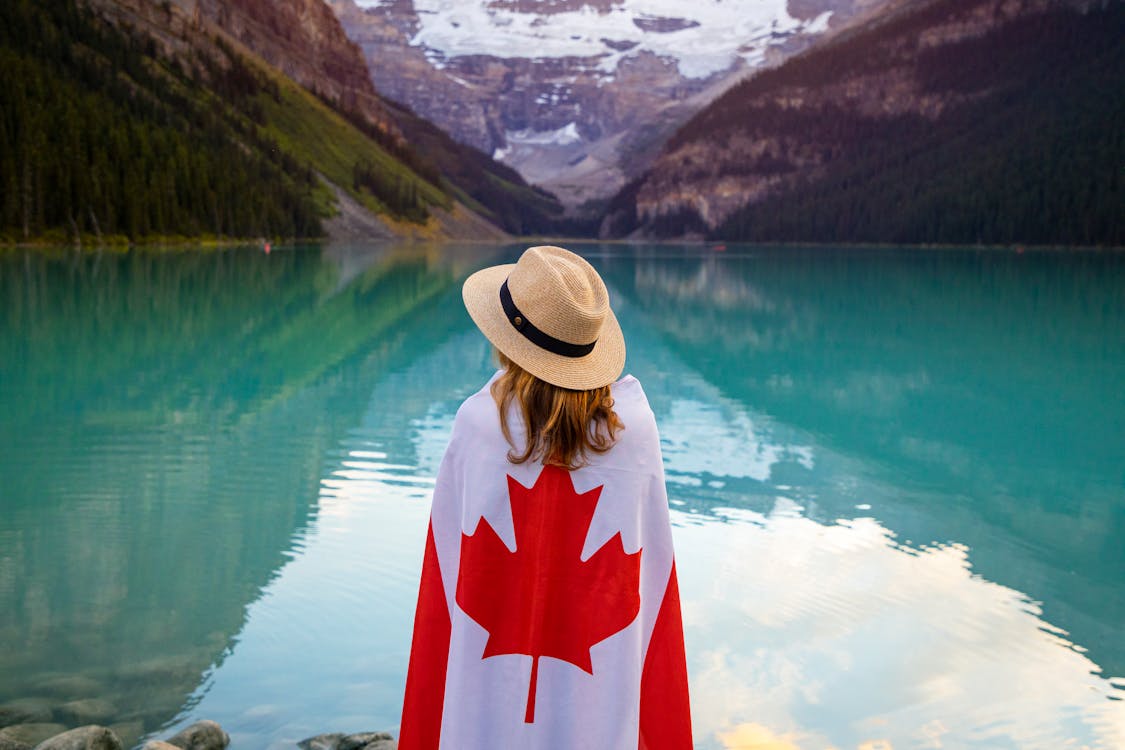 https://www.pexels.com/photo/photo-of-woman-standing-near-the-lake-2895039/
Pronunciation and Slang: Canadian English Accent
When it comes to talking about the way the Canadians pronounce their words, one should definitely bear in mind that we also have the French language right beside us, which alters our Canadian English accent to the core. So, if you are bothered by the question of how to speak Canadian English? Or how to fake a Canadian English accent? Simply try speaking your regular English, but fill it with a lot of posh words and make it mellower, just like speaking English while trying to pronounce the French words. Try saying Hello, while contemplating over Bonjour!
Also, you shall not forget that like any other nation in the world, we like to invent our own slang. Yes, we do not derive from the other words, we invent new words, so you come to our country and wonder at how splendid our version of the English language is. Will you understand, if I ask you where is the washroom? But that's, probably, and easy one. Try this one. Do you know what is a loonie? Or, maybe, you have ever heard of Toonie? Those are one-dollar and two-dollar coins, respectively. So, fancy speaking some Canadian English, eh?
Oh, by the way, have ever noticed how much we use eh at the end of our sentences? Yes, we do it a lot. So, why do Canadians say eh? Here comes the answer. Generally, we put at the end of our sentences mainly as a phonetic means of asking for the interlocutors impression of what we have just said. For example, if I say What a lovely day, eh?, you should translate it as What a lovely day, don't you agree?
Well, Canadian slang, akin to Canadian English, is something truly exceptional. Nevertheless, learning how to speak Canadian is not that hard. You take the British spelling and mingle it with half-American, half-British pronounciation. Then you sprinkle it over with a bit of French accent and stir in a pinch of extraordinary slang. Not that simple, eh? Well, there is no need to struggle that much. In Canada, our primary language is the language of tolerance, understanding, and compassion. So, as long as you know those international languages, we are surely going to find common ground.