It feels like everything under the sun has gotten covered by The Simpsons at this point. They've traveled the globe, been visited by all sort of famous people, and provided an episode for almost every holiday. Of course, since two of the Simpson children go to school, there have been several episodes built around Springfield Elementary, its students, and its faculty. With back to school season nigh, here are five of our favorite school episodes of The Simpsons.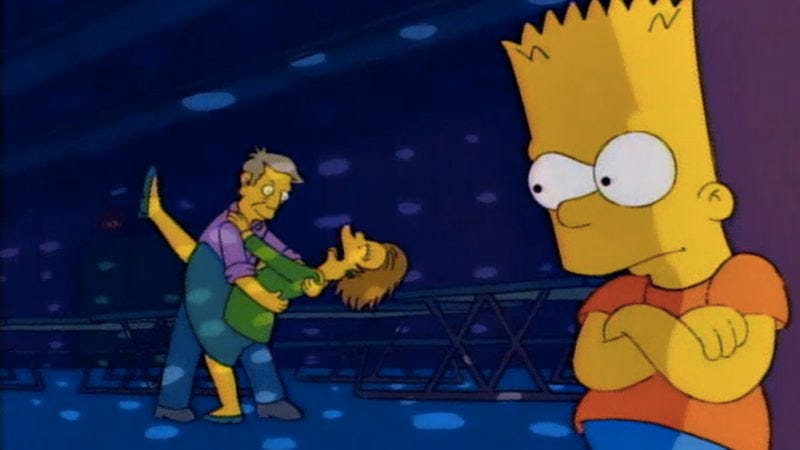 "Grade School Confidential"
Principal Seymour Skinner and Edna Krabappel have both been unlucky in love. Well, Krabappel, who is divorced, certainly has been. Her most-successful love story prior to "Grade School Confidential" came when Bart pretended to be a man named Woodrow who was interested in her, using Gordie Howe's picture as Woodrow's. As we learn here, Skinner didn't really have a love life before Mrs. K. In this classic episode, Skinner and Krabappel make a love connection in a playhouse in Martin Prince's backyard. Also, we learn that Sex Cauldron got shut down.
"The PTA Disbands"
What happens in Springfield when the teachers go on strike? The townspeople of Springfield step up to fill in as substitutes. While Jasper holds onto his role as Lisa's teacher for the duration, Bart does an effective job of driving everybody away until his own mom becomes the latest teacher. It's hard to let your mom be hit by a giant battering ram. It was a rough gig for Marge, but it was better than the kids not going to school at all. There's just something so unwholesome about flying a kite at night.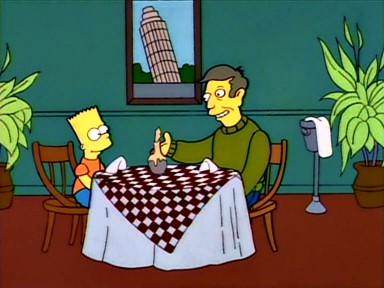 "Sweet Seymour Skinner's Baadasssss Song"
This is the 100th episode in the history of The Simpsons, which means there have been over 550 more episodes since, so of course it was a big event. No, I'm not talking about Bart bringing his dog to school, or Willie getting greased up by Lunch Lady Doris to go into the vents. I'm talking about Skinner being fired as principal. Missing his nemesis, Bart works to get Skinner his job back, giving Seymour's life meaning once again.
"Lisa's Substitute"
Back in the second season, The Simpsons was just becoming a cultural touchstone, en route to becoming a pop culture monolith. As such, getting a notable actor to voice a character was significant. Dustin Hoffman didn't even use his real name. He had himself credited as "Sam Etic," but we all knew the truth. His voice was unmistakable as Mr. Bergstrom, Lisa's substitute teacher who gives her a new lease on life.
"Lisa's Rival"
Lisa is used to being to being the ace student in her grade. She's smarter than everybody, better than everybody in the band, and so on. As such, when a new student shows up who is just as smart, just as good at the sax, and also is a year younger because she skipped a grade, it throws her into a tizzy. This stuff is good, but it's also not the best part of the episode. For you see, this is the episode where Homer finds an overturned sugar truck and tries to become a sugar baron.