A lot has been made about the upcoming release of director Quentin Tarantino's ninth film, Once Upon a Time…In Hollywood and a lot of weight or importance has been attached to it being the sort of film that Hollywood just doesn't make anymore: A gonzo period epic featuring arguably the last genuine old school movie star (Leonardo DiCaprio) who actually has the power, box office clout and sheer talent to get these sorts of stories produced. The commercial and critical performance of this story about 1969 Hollywood set against the backdrop of the infamous Charles Manson murders has, like it or not, become a ringside grudge match between an endless stream of big budget super hero movies and a type of movie that clearly features an independent sensibility worthy of The Godfather, Close Encounters of the Third Kind, Pulp Fiction and Boogie Nights . The winner of this knock-down, drag out fight might very well determine the ultimate course of American movies for the foreseeable future. Place your bets!
 With the release of Once Upon a Time coming up this Friday, your intrepid reporter from Vents is rolling out the welcome mat by taking a look at just what the earnest moviegoers of the world might need to know about the film and the turbulent era it is set in.
 Starting at the top, it is important to know that the Hollywood that exists in Tarantino's flick is one in a major state of flux. With the old studio system in shambles a new and more maverick group of up and coming voices – in all areas of the entertainment landscape – positioned themselves to become the arbiters of a new sort of film that spoke to a generation that had been brought up on a steady diet of the Vietnam War, Flower Power, political assassinations and civil unrest. The result of this potent cocktail was a new and fresh crop of stories that blanketed the silver screens dotted across the country: Easy Rider, Rosemary's Baby, 2001: A Space Odyssey, The Graduate, The Good, the Bad and the Ugly and Midnight Cowboy were but a handful of incendiary and unique films that harkened in what is now generally seen as a second Golden Age for Hollywood, unparalleled since 1939 when a world on the brink of global war lost themselves in the adventures of Dorothy in The Wizard of Oz or the trials and tribulations of Scarlett O'Hara in Gone With the Wind. It is in this landscape and upheaval that we find fading television star Rick Dalton (Leonardo DiCaprio) and his stunt double Cliff Booth (Brad Pitt).
 If one thing seemed to put a dark capper on the tumultuous decade of the 1960s both in Hollywood and the United States it was the advent of a madman named Charles Manson and his deranged followers and the trail of murder and mayhem they let in their wake: Nine murders at four separate locations between July and August of 1969, the most notable one being that of actress Sharon Tate who was married to director Roman Polanski and expecting their first child. It was a sad and bloody end to a decade that had seemed to promise so much in the early days of the 60s.
Quentin Tarantino's movie takes all of the above information about the era and uses it as backdrop, placing Rick Dalton as a next door neighbor of Sharon Tate (Margot Robie). Paradoxically, as Sharon's star is rising in Hollywood, Rick's is fading as he tries to hold onto the Hollywood of the distant past. Tarantino seems to be setting up a classic sort of Sunset Boulevard juxtaposition and the truly creepy and uncomfortable twist is the insertion of Manson and his so-called "family."
Is there a bridge between 2019 and 1969 that can help the viewer off the street get the most out of this new look at Hollywood and Charles Manson?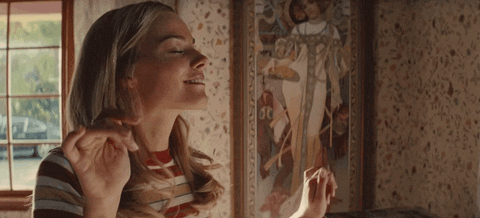 A sort of unofficial companion book to Tarantino's new epic would be author and film historian Peter Biskind's immensely readable tomb, Easy Riders, Raging Bulls: How the Sex-Drugs-and-Rock 'N' Roll Generation Saved Hollywood. Consider it a primer before going into a cool and dark theater this Friday: Biskind (a former editor and writer for the sadly defunct entertainment magazine Premiere) gives readers a list of all of the movers and shakers in late 1960s Hollywood and packs his book with so many scintillating stories of the behind the scenes machinations that you will feel as if you lived through those years. Bisking brings these transformative years in our culture and in entertainment alive and that's about as high praise as one can give any writer.
 But ultimately all any viewer of Once Upon a Time…In Hollywood really needs in preparation for the Friday release is a desire to see a master director and actors working at the top of their game all united to deliver a story of substance, emotion and originality. So go out and support something markedly different and wholly original yet familiar. Let Hollywood know that there is an audience starving for more mature stories and, perhaps in that way, we can bring back, if only for two plus hours, a Hollywood where substance was valued over flash and mindless spectacle.