In the mid-90s, Will Smith became the biggest movie star in the world on the back of two alien-centric movies: Independence Day and Men in Black. Maybe there are aliens in Wild, Wild West too, but everybody says that movie is garbage so there is no reason to find out. Both those movies were successes, but Independence Day was the massive blockbuster. If you ask somebody to name a Will Smith movie from the '90s, I would guess that Independence Day would get more mentions than any other film. It was the big bombastic film where the White House gets blown up real good. Here's the thing, though. Independence Day kind of sucks, while Men in Black is really good and holds up big time.
Now, I'm not here to legislate why Independence Day is a mediocre at best movie. I'm not here to tear down Judd Hirsch. They are about to reboot the Men in Black series, so I want to drop some praise on the original for the occasion. If you aren't familiar with the premise, a quick summary. Will Smith plays James Edwards, a police officer who gets recruited to join the Men in Black, a shadowy, secretive organization that deals with extraterrestrial matters on Earth. They keep aliens a secret from the rest of us, deal with violent threats, and so on. Edwards is recruited by K, played by Tommy Lee Jones. Edwards joins, is rechristened J, and he and his curmudgeonly mentor deal with the threat of a Bug, who steals a human's skin and goes about trying to star an intergalactic war to feed his people.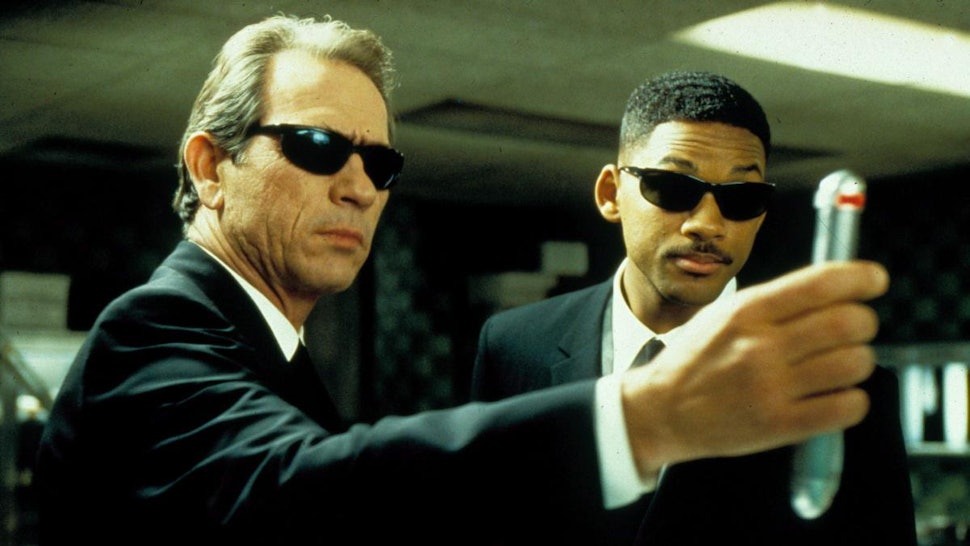 There's a lot to like about this movie. Jones and Smith have great chemistry, and they do the old hand, new face dynamic well. Vincent D'Onofrio plays Edgar, the man who is replaced by the Bug, and gives a bonkers performance as an alien in a man's body. What I really appreciate, though, is the vibe of the world. Men in Black is a little cynical, a little snarky, and very irreverent. There's a lot of comedy in it from a few different sources. Smith gives a movie star comedy performance. The action is, you know, fine. That's not the real strong suit. What's great is the comedy and the world building.
I never roll my eyes at anything in Men in Black. I get grossed out a few times, to be sure. There is a squirmy, icky quality to some of the alien stuff. Some unpleasant alien designs. Hey, at least they are creating a detail-rich world. Independence Day, to circle back around, has a lot of those moments. It's cheesy. There is no cheese to Men in Black. It has bite. It has flair. It has Tommy Lee Jones and Will Smith giving excellent performances.
I don't know how this rebooted version is going to go. I just know I can always turn to Men in Black and enjoy it.