We are what we eat and if our diet is packed full of sweet, acidic foods and drinks, the chances are good that these poor choices will be reflected in our teeth. The worst offenders feed the bacteria in our mouths. The more bacteria there are running rampant on our teeth, the greater the build-up of plaque. And as your dentist keeps reminding you, plaque is not good!
Good oral hygiene is important, but where possible try to avoid consuming too much of the following:
Citrus
Citrus is good for us. It contains lots of vitamin C, which helps boost the immune system and facilitates the absorption of iron from food. However, citrus fruits are also very acidic and too much acid is not good for teeth because it breaks down the enamel.
And if you find that you have sensitive teeth due to a lack of enamel, be sure to
visit https://www.mathesondentistry.com/
to explore your treatment options.
Sports Drinks
Sports drinks are full of sugar. If you are an athlete, you will need the energy boost, but for everyone else, stay away from sugary sports drinks and stick to plain water instead. Your teeth and your waistline will thank you.
Dried Fruit
Dried fruit is nutritious and tasty, but many are very sticky and tend to stay stuck to teeth for far longer than is healthy. To minimize the effects of eating dried fruit, make sure you wash it down with lots of fresh water.
Alcohol
Saliva helps to remove small food particles from around the teeth and dilutes mouth acid, so it's a good thing. Drinking alcohol regularly reduces saliva production and in time, leads to gum disease and tooth decay.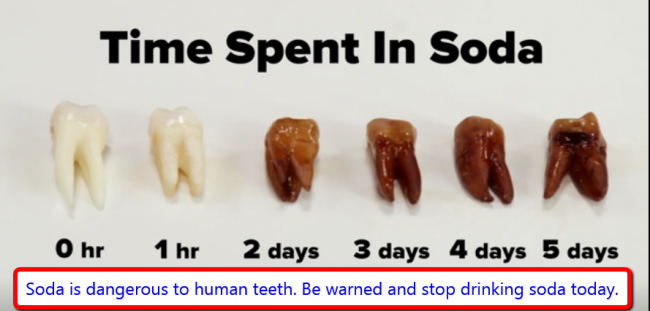 Soda
Carbonated drinks such as cola are highly acidic and full of sugar. Drink these and your mouth fills up with sugar, which encourages the bacteria to grow. When soda is drunk in moderation, you'll be OK, but try to alternate it with water.
Candy
Candy is full of sugar, which by definition is very bad for our teeth. However, what you may not realize is that some candy, such as boiled sweets, is very hard, so you run the risk of breaking a tooth when you chomp down on them. Stick to sugar-free gum instead.
Potato Chips
Crunchy potato chips are a tasty snack, but they are ruinous for teeth. Potato chips are a high starch food and starch is bad for teeth. Every time you chow down on a bag of potato chips, little bits of starchy food end up trapped between teeth. In time, this leads to a buildup of plaque unless you are super-efficient at flossing.
Pickles
Pickles are very acidic and therefore seriously bad for your teeth. Stick to raw vegetable sticks if you need a quick snack between meals.
Coffee
Caffeinated coffee dries the mouth out, so you end up with less saliva. Not good for the teeth!
Tea
Caffeinated tea with milk and sugar is no better than coffee. Instead, drink green tea, as it contains polyphenols that destroy plaque bacteria.
Tooth decay and gum disease don't happen overnight, so schedule twice yearly appointments with your dentist and remember to floss and brush daily.