Screaming The Love Behind The Stars by Jupiter In Velvet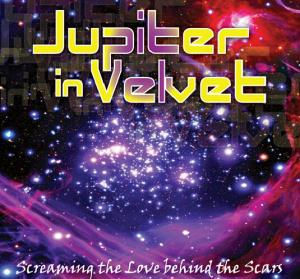 Jupiter in Velvet is a singer/songwriter based out of London, England who just released his latest 10 track CD Screaming the Love Behind the Stars in 2012. First off – I love the title of this CD. In this overly saturated genera/market with a plethora of artists coming out of the woodwork, armed with nothing more than a PC, Microphone, a guitar, and a crappy sounding CD – it's nice to know there are a few bands that can still rock out. These artists I speak of manage push their music out to the world and much of it is – do I dare say is substandard to say the least. So what do bands like MPOX, Blink 182, and The Killers got that Jupiter in velvet don't? Not much if you ask me save the multi million dollars promotional machines and major record label support. Jupiter in Velvet breaks the mold with his highly creative touch and catchy grooves that in their final impression: deliver invigorating music with its deep seeded UK punk rock roots. Jupiter in Velvet is a very passionate and creative artist, and the production value of Screaming the Love Behind the Stars is off the charts for an Independent Artist. Musical overtones that will remind you of acts from The Kills, Foxboro Hot Tubs, Arcade Fire, Blink-182 and even Decemberists. He also reminds me of a cross between Chris Ballew (President of the United States of America) and the Black Keys. Right now after hearing Jupiter in Velvet's music and checking out his site I can honestly say this he what's been missing from the radio lately? I don't say stuff like that often. All in all a well rounded CD that has much to offer the listener – So apparently there are still a few artist out there believe in writing you an amazing piece of music without making your ears bleed. My favorite track is Rock and Roll Girl.
Final Word: Jupiter in Velvet stands out from other Indie-Alt artists in a good way within this very saturated singer/songwriter market. His answer to mundane music is to deliver something unique with a breath of fresh air. Armed with a brilliant artistic perspective, superlative writing, and an infectious English persona to call his own.
Overall Rating: 8/10 Stars
Written by Rory Richardson
edited by Janne Zawa
Send review comments to: jannezawa@gmail.com
Comments
comments
---
---
---